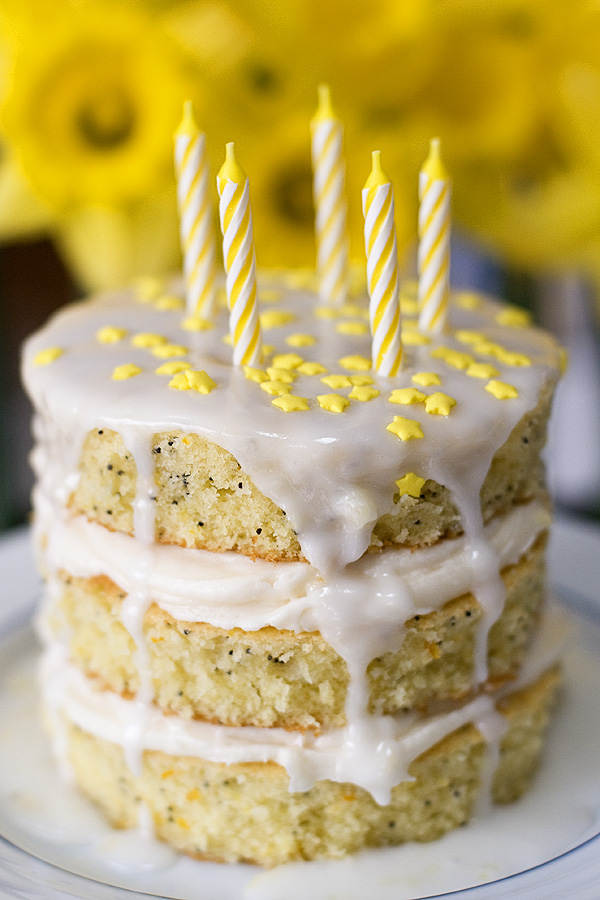 My mom's birthday was on April 11th. Her favorite desserts always involve lemon, so I decided to make her this adorable lemon poppy seed layer cake. The cake turns out to be relatively small, because each layer is only 3 or 4″. It was the perfect cake for my parents and I to share on her birthday. And for fun, we'll pretend that she was turning 5… as I couldn't fit sixty one candles on that little cake!
Citrus Layer Cake
Recipe source: Seasons and Suppers
Print Recipe
Cake:
1 cup sugar
1 cup butter, softened
2 tablespoons freshly squeezed orange juice
1 tablespoon vanilla
1 tablespoon lemon zest
1 tablespoon orange zest
3 eggs
1-3/4 cups all-purpose flour
1-1/4 teaspoon baking powder
1/2 teaspoon salt
1/4 cup milk
1/4 cup plain yogurt
1 tablespoon poppy seeds
Cream cheese frosting:
3/4 cup butter
8 ounces cream cheese
1 tablespoon freshly squeezed lemon juice
4 cups icing sugar
1 tablespoon vanilla
Citrus Glaze:
2 cups icing sugar
2 tablespoons freshly squeezed orange juice
2 tablespoons freshly squeezed lemon juice
1. Preheat oven to 350° F. Coat a 9 x 12 (or 13)-inch baking spray..
2. In the bowl of an electric mixer, cream sugar and butter until light and fluffy. Add juice, vanilla, zest and eggs and continue beating. In a separate bowl combine flour, baking powder and salt.
3. In another bowl combine milk and yogurt.
4. Add milk mixture and flour mixture alternately to butter mixture and beat well to combine. Fold in poppy seeds. Pour batter evenly onto pan and bake for 35 minutes. Remove and cool.
Meanwhile, prepare frosting and glaze.
5. For frosting, in a medium bowl cream butter and cream cheese by using a mixer, then add lemon juice and vanilla and incorporate. Sift icing sugar into butter mixture a cup at a time. Mix until smooth.
6. For glaze, simply combine all ingredients and stir until smooth. Cover and set aside.
Assemble cake.
7. Cut 3″ or 4″ rounds out of the 9×13″ cake.
8. Place one cake round on a serving plate, top with a generous layer of cream cheese frosting. Layer each round and leave the top without frosting. Pour glaze over the top of cake until it begins to run down the sides.
9. Garnish with orange or lemon peels — or birthday candles!