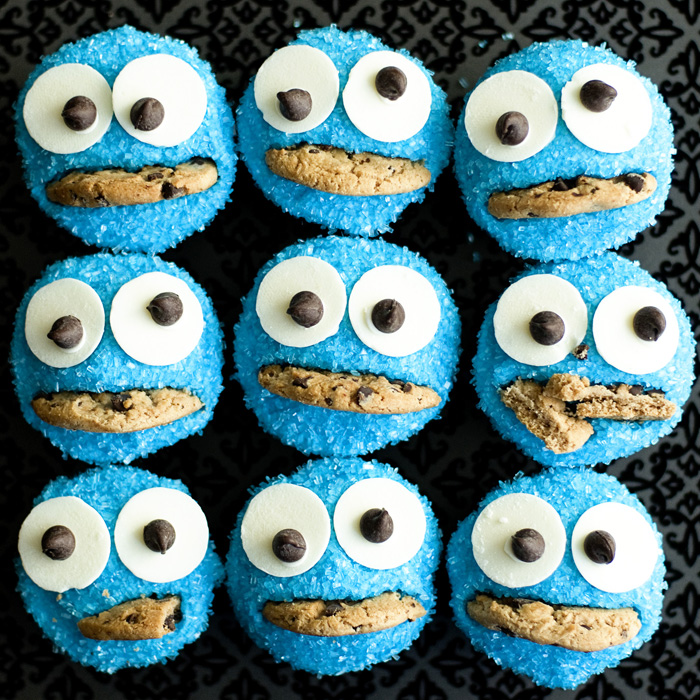 If you know me well, you know that I am basically a five year old kid trapped in a twentysomething year old body. And here is the proof. I made Cookie Monster cupcakes! He was always my favorite character on Sesame Street.

Cookie Monster Cupcakes
Print Recipe
1 box cake mix (I used white cake, but you can use whatever you'd like)
12-15 Chips Ahoy cookies
24-36 chocolate chips
24-36 vanilla candy melts
1 tub vanilla frosting (or you can make your own buttercream from scratch if you'd like)
Blue decorating sugar
1. Bake cupcakes according to box directions and cool on a wire rack.
2. Dye the vanilla frosting blue and frost the cupcakes. Dip each frosted cupcake into the blue sprinkles and coat with sprinkles.
3. "Glue" two vanilla candy melts onto each cupcake using extra vanilla frosting. "Glue" two chocolate chips on top of each candy melt – and get creative – make some of them cross-eyed!
4. Cut the chocolate chip cookies in half and press into each cupcake. You can also be creative with this step, too. Break up some of the cookies into bits or make them different sizes, as to make each monster unique.
Makes about 24 cupcakes.