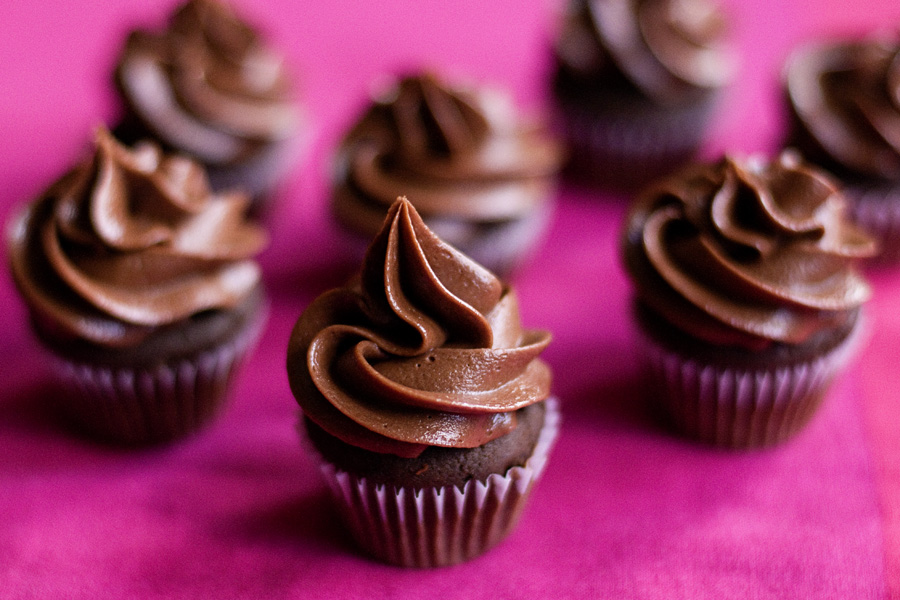 Here's another creation by my friend Meg! We had lots of fun frosting almost 200 mini cupcakes for her birthday party! These were my favorite – I'm a sucker for anything involving dark chocolate!
Dark Chocolate Mini Cupcakes
Recipe adapted from epicurious.com
Print Recipe
Cupcakes:
2 cups walnuts, toasted, cooled
1 cup whole-milk ricotta cheese
1/4 cup chopped fresh mint
2 tablespoons honey
1 cup all purpose flour
1/2 teaspoon baking powder
6 ounces bittersweet (not unsweetened) or semisweet chocolate, chopped
3/4 cup (1 1/2 sticks) unsalted butter, cut into 1/2-inch cubes
1 1/4 cups sugar
3 large eggs
1 teaspoon vanilla extract
Frosting:
4 1/2 ounces high-quality dark chocolate, chopped
6 ounces (3/4 of 8-ounce package) cream cheese, room temperature
6 tablespoons (3/4 stick) unsalted butter, room temperature
3-4 cups powdered sugar
1/2 teaspoon mint extract
1/4 teaspoon coarse kosher salt
1. Preheat oven to 325°F. Line two 12-cup mini-muffin pans.
2. Using on/off turns, blend first 4 ingredients in processor until walnuts are finely chopped.
3. Whisk flour and baking powder in small bowl. Stir chocolate and butter in heavy small saucepan over low heat until melted and smooth. Cool slightly.
4. Using electric mixer, beat sugar, eggs, and vanilla in large bowl until very thick, about 4 minutes. Gradually beat in cooled chocolate mixture. Stir in walnut mixture.
5. Spoon 1 1/2 tablespoons batter into each prepared muffin cup. Bake cupcakes until tester inserted into center comes out clean, about 15 minutes. Cool in pan on rack.
Frosting:
1. Stir dark chocolate in metal bowl set over saucepan of barely simmering water until melted and smooth. Cool slightly. Using electric mixer, beat cream cheese, butter, sugar, vanilla, and salt in medium bowl until fluffy. Gradually beat in melted dark chocolate and mint extract. Let cool until thickened to spreadable consistency.
2. Spread frosting over cupcakes.
*If the frosting is too runny or thin, just add more powdered sugar.