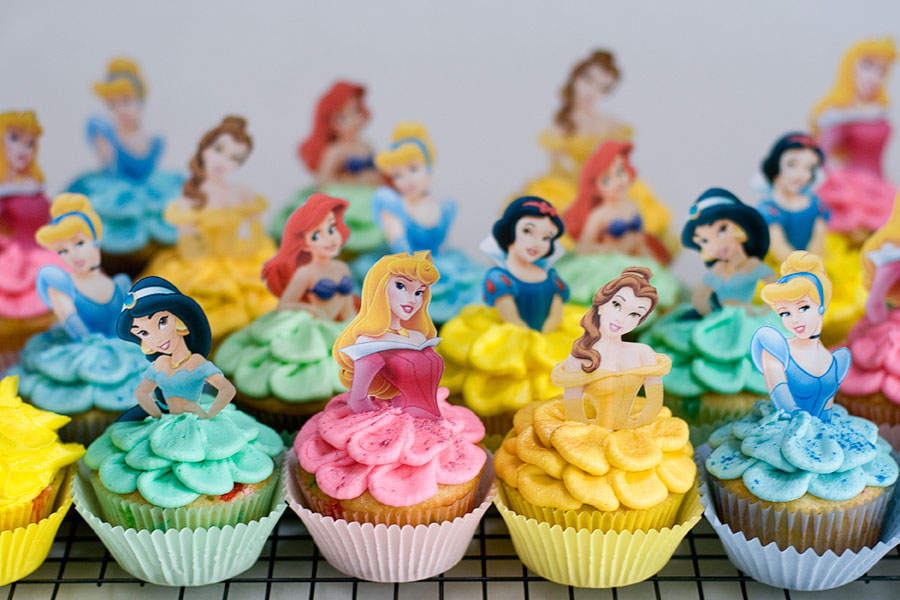 I have made these Disney princess cupcakes twice over the past few months. Once for the girls I babysit and once for my friend's daughter, who just turned four. Just about every little girl loves princesses – or at least goes through an intense, princess-obsessed phase. I know there's another side to this story though – the people who are frustrated by the fact that many little girls look up to princesses.
Disney fairytales are unrealistic and imperfect, but I'm alright with that. To a five year old kid, all things Disney are magical in which good always wins over evil — and that is pretty special.
I think Kelly Oxford (who wrote the great "Everything is Perfect When You're a Liar") sums up my feelings toward Disney more eloquently that I ever could:
"I suddenly feel a weird sense of community with the other parents in our fake Jeep, helmed by my unskilled and vomit-prone son. All of us laughing and whoa-ing together. All of us spending more money than we should, gambling on a chance to create memories in this place built on make-believe. The best parts of childhood, adulthood, and parenthood are those pure moments of bliss, when you completely forget about your future and past and live in your moment. That, I realize, is why I loved Disneyland as a preteen: it was an escape from that time, from the fears of never getting my period, of being pressured into trying cigarettes, and of liking Days of Our Lives. That's why there are moms who are itching to dress up like Snow White for an entire day, in public, with zero shame. It's the best kind of lie. To stop thinking about the shit in our lives for a day and pretend that a princess is real, that the Beast is in the castle, and that they never take off their costumes or meet for some crappy cafeteria lunch and a cigarette behind the facade walls of Main Street." — Kelly Oxford
These cupcakes were heavily inspired by Erica's beautiful blog. I encourage you to read her post as well, as she had a heartwarming reason for making the cupcakes.
Disney Princess Cupcakes
Print Recipe
Recipe source: Erica's Sweet Tooth
24 cupcakes (any kind you would like; I used box mix funfetti)
A batch of buttercream icing (I used the white buttercream icing recipe here)
A large petal tip, Wilton #127
Disposable pastry bags
Food coloring: pink, yellow, buttercup yellow, leaf green, kelly green, and blue
Lollipop sticks, cut in half
Tape
Disney princess pictures
Edible glitter (optional)
A note about the Disney princess pictures: I searched for each individual princess using Google, save the corresponding images, and resized them all so that they would be proportionate. I then printed 4 of each on cardstock. I cut them out and attached them to the lollipop sticks using tape. I do not want to post the princess images on my blog (because it might be a murky area, copyright-wise). But don't fear – just use Google (ex: search for "cinderella") and you'll find the exact same cartoon images that I used. You'll just need to do a little trial-and-error with resizing them so that they are proportionate. If you have questions about this step, please don't hesitate to contact me.
1. Bake your cupcakes and allow them to cool entirely. While they are cooling, make a batch of buttercream icing. You may want to make an extra 1/2 batch, especially if you are doing these for the first time and haven't gotten a hang of using the petal tip.
2. Divide the icing into six small bowls. Use the food coloring to dye each batch a different princess skirt color.
3. Fit a pastry bag with the large petal tip and fill the bag with one of the batches of colored icing. Pipe two layers of petals onto the top of each cupcake. I would highly suggest practicing this on a napkin first. It took me a few tries to get the petal look just right. You will want the wider end of the tip pointing out.
4. Once all of the cupcakes are frosted, stick the Disney princess toppers into the cupcakes.
5. If you have edible glitter, you can add some of that to each cupcake to give them a little sparkle.
Enjoy!