To be honest, I love doughnuts but would never make them at home. The thought of all that boiling oil is a little intimidating for me. While I work on my deep frying confidence, these little guys will have to do in the meantime. This recipe is based on the Easter Doughnut Cookie recipe from the King Arthur Flour collection. While the texture is a little dry for my taste, as I am usually a gooey-chewy person, I have to admit they go great with coffee and are too cute to boot!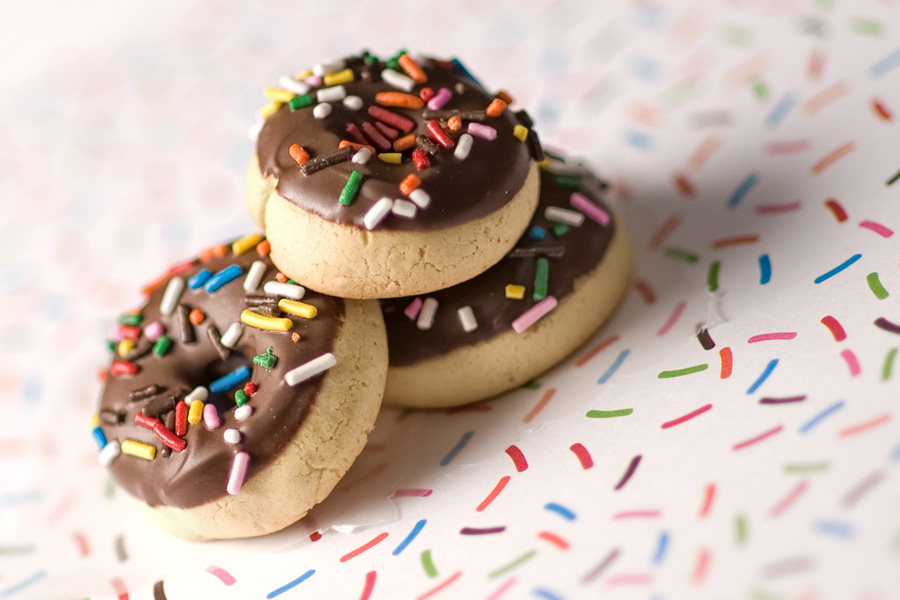 Doughnut Cookies
Print Recipe
2 Tbsp. vegetable oil
3 Tbsp. butter, melted
2 eggs
2 tsp. vanilla extract
1/2 tsp. almond extract
3/4 tsp. salt
2 tsp. baking powder
1 c. powdered sugar
2 1/2 c. flour
Decorations
2 squares chocolate almond bark, melted
assorted sprinkles
Directions
Preheat oven to 350 oF. Prepare cookie sheets by lightly spraying them with cooking spray. Beat the first 5 ingredients together until well mixed. Sift in the dry ingredients into the wet and mix until smooth. If dough seems too dry, stream in a small amount of vegetable oil and knead in until pliable.
Pinch off 2-tsp. balls of dough (~1 small cookie scoop) and role into a rope about 4 inches long and 1/2 inch thick. Coil rope into a small ring and place on cookie sheet.
Bake for 16-18 minutes until edges turn slightly brown. Let cookies cool on sheets for about 5 minutes and transfer to a wire rack til completely cool.
To decorate, dip tops in melted chocolate almond bark and adorn with sprinkles.