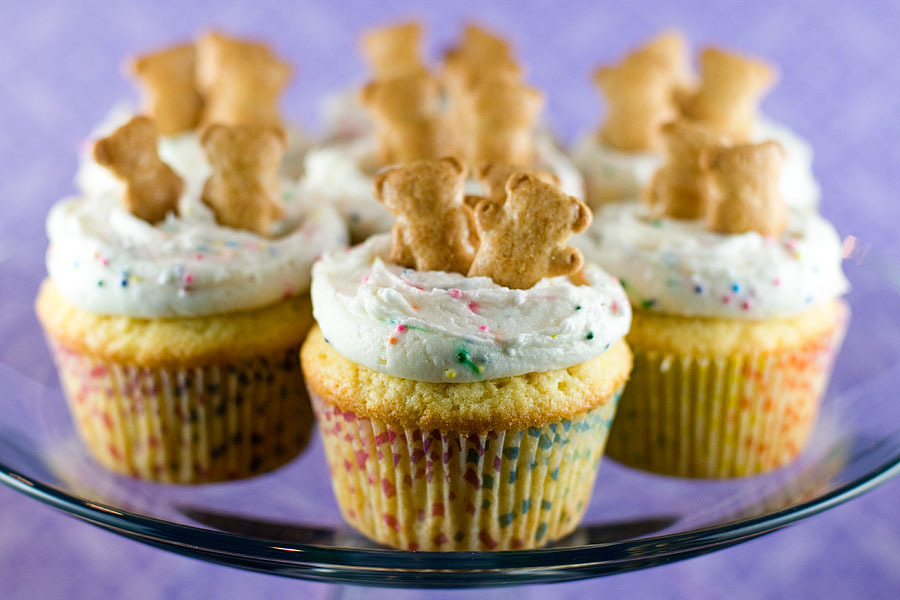 Raise your hand if you remember Dunkaroos from your youth! If you were in grade school in the 90s, you probably ate these as your "dessert" at lunch. And they were amazing. If you're unfamiliar, you'd get a little compartment of graham cracker kangaroos and another little compartment of frosting. The frosting tasted magical and it included sprinkles, so kids everywhere rejoiced. Does anyone know if Dunkaroos are still sold in stores? I haven't seen them in years and years.
I've seen countless Dunkaroo cupcake recipes on Pinterest, as well as some recipes for just the sprinkled frosting. These things were a cult classic of the 90s, I tell you!
Dunkaroo Cupcakes
Recipe source: Kailley's Kitchen
Print Recipe
For the cupcakes:
2 cups all-purpose flour
1 cup sugar
1 cup (two sticks) unsalted butter, softened
1 whole vanilla bean
4 large eggs
1 Tablespoon baking powder
2 Tablespoons vegetable oil
3 teaspoons vanilla extract
2 Tablespoons whole milk
1/2 teaspoon salt
For the frosting:
3/4 cup (1.5 sticks) salted butter, softened
3 ounces (about 1/3 block) cream cheese
4 cups powdered sugar
2 teaspoons vanilla extract (or other desired flavor, such as coconut or almond)
2-3 Tablespoons heavy cream (or more for desired consistency)
4 Tablespoons rainbow sprinkles
For the graham cracker crust:
1 cup graham crackers crumbs (use food processor to pulverize)
3 Tablespoons unsalted butter, melted
3 Tablespoons light brown sugar
Plus Teddy Grahams for decoration.
1. Preheat oven to 350 degrees F and line a muffin pan with liners.
2. In a small bowl, combine graham cracker crumbs, melted butter, and light brown sugar. Place about a Tablespoon of the mixture in each muffin liner, patting down with the base of a cup.
3. Bake graham cracker crust for 3 minutes, remove promptly from oven and set aside.
4. Using an electric mixer fitted with a paddle attachment, beat butter and sugar until light and fluffy. Add eggs one at a time, mixing in between each. Add flour, baking powder, salt, and extract and mix until just combined.
5. Slice vanilla bean length-wise, scrape seeds into batter and mix until there aren't visible clumps of vanilla bean.
6. Add milk and vegetable oil, mix until just combined.
7. Spoon batter into cupcake liners and fill each 3/4 full. Bake for 16-18 minutes until slightly golden, then allow to cool on a wire rack.
For the frosting:
1. In an electric mixer fitted, cream butter and cream cheese until smooth. Add 2 cups of powdered sugar and mix. Add remaining powdered sugar and vanilla extract and mix. Add heavy cream and sprinkles and mix.
2. Fill a piping bag with frosting and pipe onto cupcakes, top with Teddy Grahams*.
*Since when do Teddy Grahams have no face?! Kind of creepy without their smiley little bear faces.
Makes about 16-18 cupcakes.