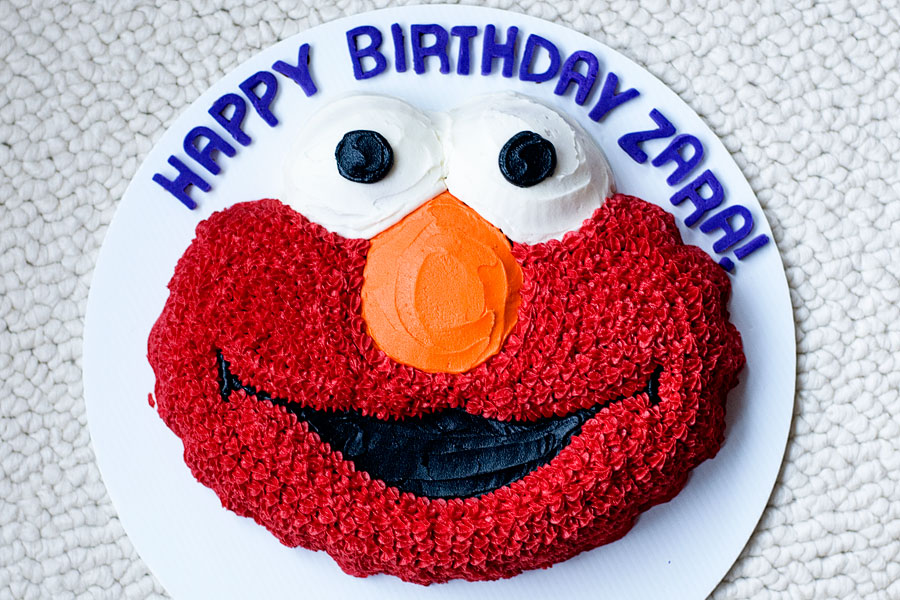 Elmo!! I still remember the Tickle Me Elmo CRAZE from about 10 years ago. I guess the little red dude is still popular. This cake was a breeze to make — thanks to Wilton and their great shaped cake pans!
I purchased the Elmo-shaped cake pan at Hobby Lobby. I baked a yellow cake (box mix) — the pan will take 1 box's worth of batter to make the full Elmo shape.
Once the cake has cooled, prepare to frost! As always, I made a batch of white buttercream frosting. I dyed portions red, black, and orange — and I left a small amount as-is and white. As I've mentioned before, I really recommend AmeriColor's Super Red and Super Black gel dyes. They are sold at Hobby Lobby as well!
I spread white frosting on Elmo's eyes and orange on his nose. I used a small off-set spatula to create a smooth look. Next I piped a blob of black icing onto each eyeball — and flattened it a bit to finish the eyes.
Next I worked on the mouth. I used a small round piping tip to outline Elmo's smile. The pan has indents for all of these features — so you will be able to trace! Then I spread the black frosting smooth using an off-set spatula.
Final step was to pipe all of Elmo's red fur. I used a small star tip to do this — and a lot of bright red frosting!
The "Happy Birthday Zara!" letters were done using purple fondant and small alphabet cutters.