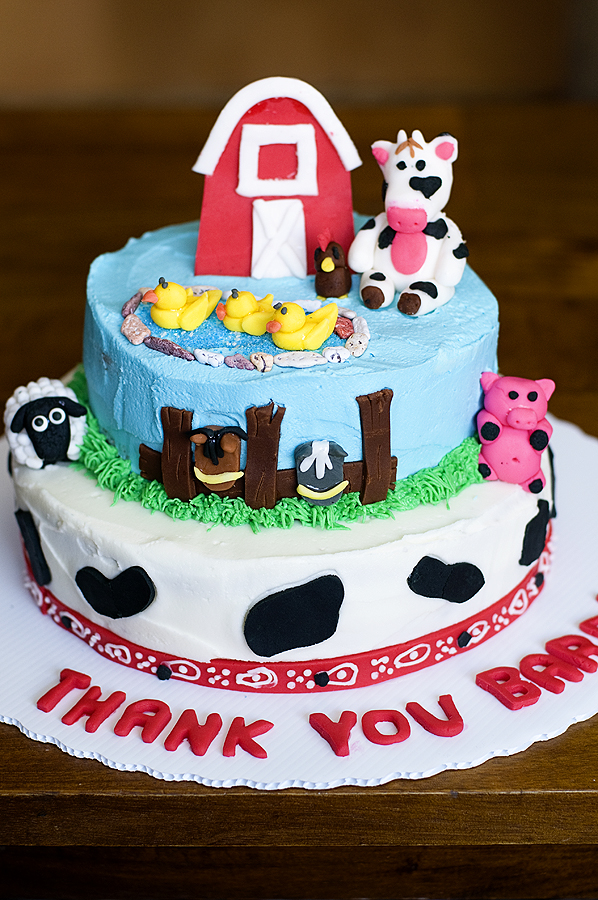 My friend (and cake decorating partner-in-crime) Meghan and I wanted to make a Thank You cake for the assistant director of our graduate program. Barb has been part mother, part friend, part problem-solver, part chocolate supplier, and a constant and unwavering source of support as we went through the MPH program. In short, we love Barb.
We didn't know what the theme of the cake should be, but then we realized that a) we are in Wisconsin b) it's August and c) Barb's daughters show cows at the fair. All three of those things added up to a farm cake! Here are some details about how we made the cake.
The cake was chocolate — made using the enhanced box-mix recipe!
I used a 9″ pan for the bottom tier and a 6″ pan for the top.
The chocolate "stones" surrounding the pond were purchased at Vanilla Bean.
All of the detailing — from the bandanna ribbon to the farm animals — were made out of fondant. Meghan made all the animals, using the Wilton 2009 Yearbook as a guide.
We got the barn to stand up by placing a cake dowel into the top tier — and then propped the flat barn up against it.
Speaking of cake dowels — make sure to always use them when making cakes with two or more tiers!
The green grass is frosting piped out of a Wilton tip (#233 or #234)
Let me know if you have any other questions!