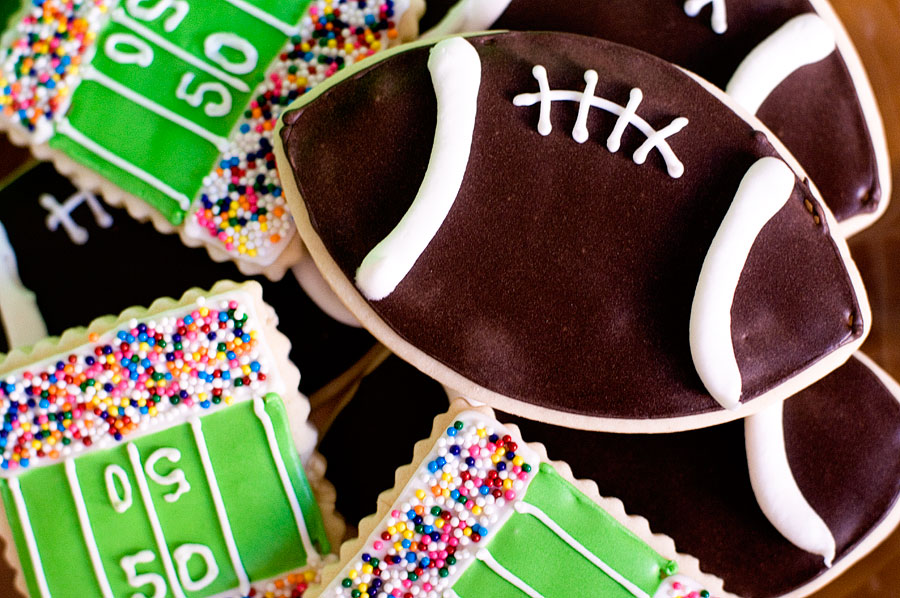 Super Bowl Sunday is a few days away! I don't know if I'll watch this year — as it will be a meeting of the two worst teams in the NFL and the two most obnoxious fan bases in all of sports. Sorry, east coasters, but it's true! In any case, if you want to make some Super Bowl party treats, give these cookies a try!
Football Cut-Out Cookies
Recipe sources: Annie's Eats (cookie and white royal icing), food.com (chocolate royal icing)
Print Recipe
These cookies involve decorating with royal icing. If you have never used royal icing or are unfamiliar with terms like "outlining" and "flooding", please read this great tutorial from Annie at Annie's Eats.  Bridget at Bake at 350 also has some amazing tutorials and tips regarding cookie-making, royal icing, and decorating.
I made two batches of sugar cookies to guarantee that I'd have enough dough for the footballs and the mini football fields. I used a football-shaped cookie cutter and a rectangle-shaped cookie cutter (mine was about 3-1/2 inches wide — the bigger the better for these!) for the fields. While the cookies were baking and cooling, I made a batch of white royal icing and a batch of chocolate royal icing. The recipes for the cookies and icings are below.
Almond Flavored Sugar Cookies
1 cup butter
1 cup powdered sugar
1 egg, beaten
1-1/2 teaspoon almond extract
1 teaspoon vanilla
1 teaspoon salt
2-1/2 cups sifted flour
Directions:
Cream butter. Add powdered sugar. Blend in egg, almond extract, vanilla, salt and flour. Chill dough until firm. Roll to ¼â€ thickness on well-floured surface. Cut with cookie cutters. Place on greased cookie sheets. Bake at 375° for 8-10 min. Cookies should not brown. Frost and decorate when cool. Yield will depend on size of cookies.
White Royal Icing
4 cups powdered sugar, sifted
2 Tablespoons meringue powder
5 Tablespoons water
Directions:
Combine all ingredients in the bowl of a stand mixer fitted with the paddle attachment.  Mix on low speed until the sheen has disappeared and the icing has a matte appearance (about 7-10 minutes).  Transfer the contents of the mixing bowl to an air-tight container.  This will be the stiffest consistency of the icing, and at this point it is still too stiff to use for decorating.  Add water a very small amount at a time and stir by hand until fully incorporated.  Continue until the icing has reached a consistency appropriate for piping.
Chocolate Royal Icing
3-3/4 cups powdered sugar
1/3 cup cocoa powder
7 Tablespoons water
3 Tablespoons meringue powder
Directions:
Mix all ingredients using a stand mixer fitted with the paddle attachment. Transfer icing to an air-tight container. Add water, small amounts at a time, until you've reached a consistency appropriate for piping.
 Once you've got all of your cookies cooled and the icings made, begin outlining the cookies.
For the footballs: outline the football cookies with a thin line of chocolate icing. I use a Wilton #2 pastry tip for outlining.
For the fields: create two small rectangle outlines on each cookie — think of these as the stands for the "people". Next, dye a portion of your white icing green. Pipe a thin line of green icing to connect the two white rectangles together. In other words, you will want three compartments on each cookie to flood — two for the fans and one for the green field.
When all of the outlines are finished, let the cookies sit for 1 or 2 hours or until the icing is fully dry and hardened.
Next step: flooding the cookies. Thin your chocolate, white, and green icing to flooding consistency. If you have no idea what I'm talking about, check out the tutorial link mentioned at the beginning of this post.
Flood the footballs with chocolate icing. Next, flood the "stands" with white icing. Let the icing stand for a minute or so and then dip into a container of sprinkles. You want the flooded icing to set up just a little bit, so it's not running when you dip it into the sprinkles. Next, flood the "field" with green icing.
Allow the flooded cookies to dry for at least 3 hours or overnight.
After the icing has dried, pipe the detailing on the footballs (laces, etc) and the yard lines on the football fields. Your flooding icing will be too thin for this, so slowly add powdered sugar to it until it becomes thicker for piping.