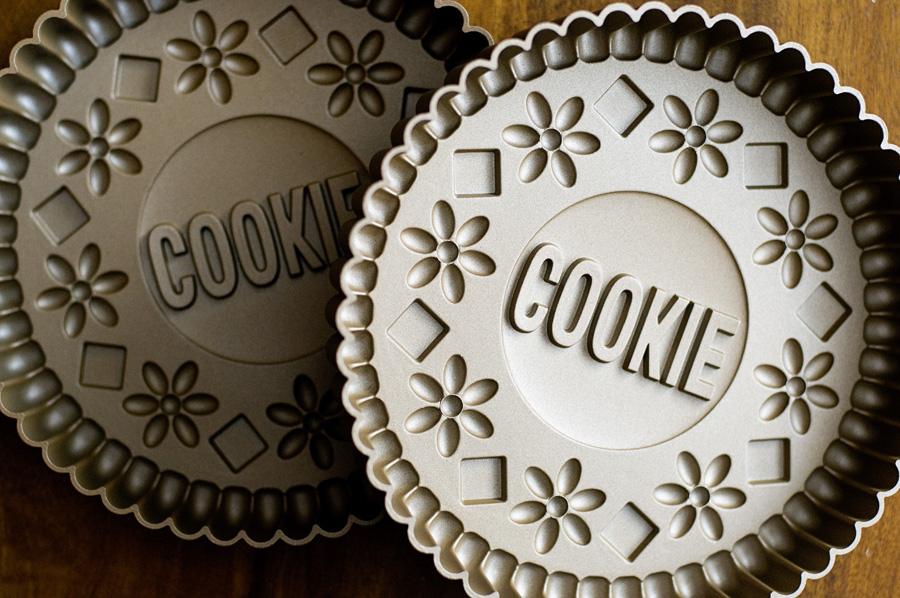 I am, admittedly, a sucker for all things novelty. I saw this cake pan set at Williams & Sonoma last winter and had to have it. Why? Because you can make a GIANT OREO CAKE with it! Imagine my glee (cause y'all know how much I love Oreos, right?!). Yeah, I'm a northerner who just said "y'all".
I also realize that this may be a slightly impractical recipe for me to share with you all, because I'm guessing that I might be the only one who was willing to spend $20 for this pan set. But I'm sharing anyway!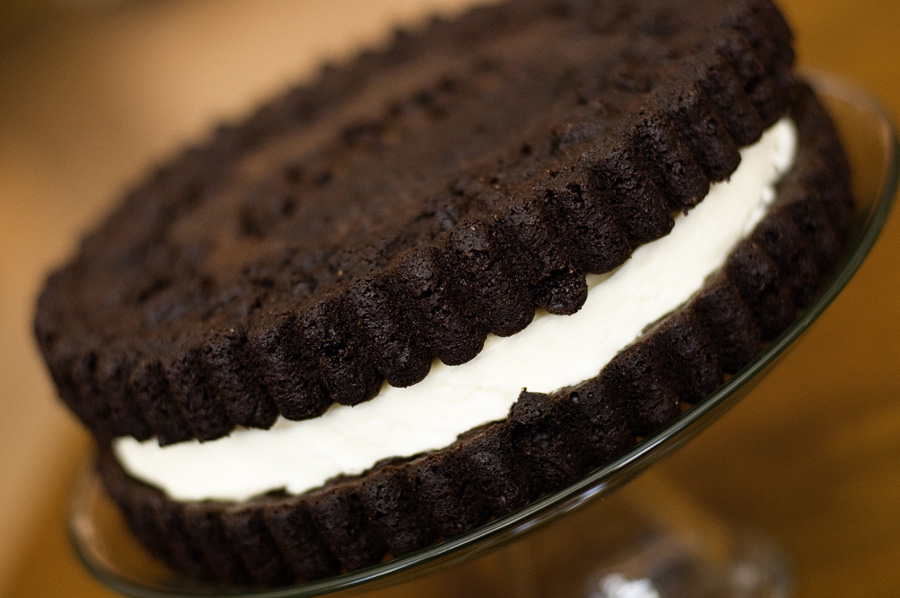 Giant Sandwich Cookie Cake
Recipe source: Williams & Sonoma
Print Recipe
For the cake:
1/2 cup cocoa powder
7 oz bittersweet chocolate, broken into pieces
1-3/4 sticks unsalted butter, cut into cubes
1 cup all-purpose flour
1 tsp. baking powder
3/4 tsp. salt
1-3/4 cups granulated sugar
4 eggs
1-3/4 tsp vanilla extract
For the buttercream filling:
4-1/2 cups powdered sugar
1-1/2 sticks unsalted butter, at room temperature
3-1/2 Tbs milk (more if needed)
1-1/2 tsp. vanilla extract
1. Preheat oven to 350F. Grease the pans with shortening, butter, or cooking spray. Be sure to coat the details and crevices in the pans. Dust thoroughly with cocoa powder and tap out excess.
2. Put the chocolate and butter in a heatproof bowl and microwave until melted, stirring once, about 1-1/2 minutes. Continue to heat and stir until the mixture is melted and creamy.
3. In a bowl, whisk together the flour, 1/2 cup cocoa powder, baking powder, and salt until combined. Set aside.
4. In a large bowl, whisk together the granulated sugar, eggs, and vanilla until well combined. Add the chocolate mixture and whisk until incorporated. Whisk in the flour mixture until combined. (Note: I did all of this using a stand mixer, not a whisk)
5. Divide the batter between the prepared pans and spread evenly. Gently tap the pans on the counter to release any air bubbles. Bake until tops of the cakes are shiny and a toothpick comes out clean — about 35 minutes.
6. Transfer the pans to wire rack and cool for 15 minutes. Invert the cakes onto the wire racks to cool further.
While the cakes are baking, make the frosting:
1. In the bowl of an electric mixer, combine the powdered sugar, butter, milk, and vanilla. Beat on low speed until combined. Increase the speed to medium and beat until fluffy. If the frosting is dry, add more milk until it is creamy but still holds peaks.
2. Using a large spatula, carefully turn one cake over so the printed side faces down. Spread the buttercream evenly over the flat side of the cake. Place the second cake, printed side up, on top. Serves 12-16 people.