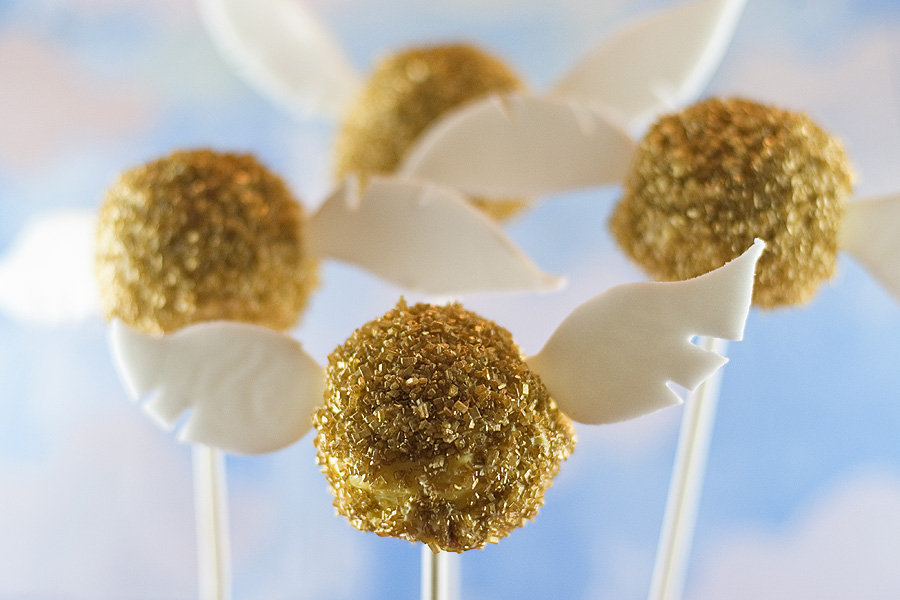 If you love Harry Potter, raise your hand! Meghan and I clearly do. Meghan made these adorable golden snitch cake pops and I can't take one ounce of the credit, except for the photo! These were made with gluten-free cake mix, but you can use whatever type of cake you'd like. 
Golden Snitch Cake Pops
Print Recipe
1 box cake mix (plus required eggs, oil)
1 tub store-bought frosting
Yellow candy melts
Lollipop sticks
Gold sprinkles (bought ours at Williams & Sonoma)
White fondant
1. Make the cake pops according to Bakerella's fabulous instructions.
2. Coat the cake pops with yellow candy melts. Before the candy melts set, roll the cake pop in gold sprinkles.
3. Cut wings out of white fondant. Attach the wings to the cake pops by cutting small slits into each side — and inserting the wings. For detailed instructions on this step, visit Amy Bites!