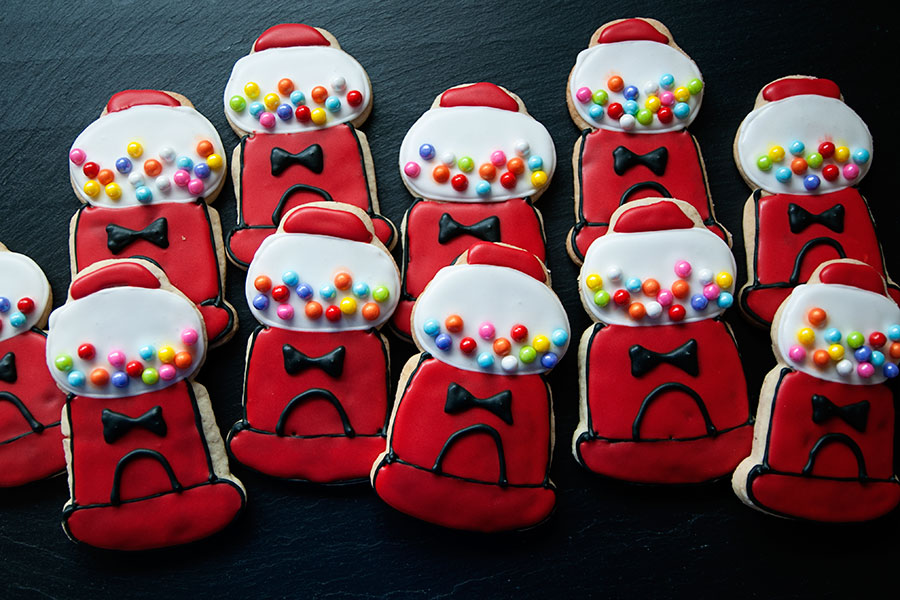 I almost didn't post these cookies because I pretty much hate how they turned out. This was one of those decorating attempts where everything that could go wrong did go wrong. The cookies were lumpier than usual. The flooded icing didn't smooth and looks bumpy. The color from the candy "gumballs" bled into the white icing. Oy! But you know, they're just cookies and they are still kinda cute, so here they are.
Yesterday (as you all know from my previous post) was my 30th birthday. When I was young, nearly every birthday cake of mine was in the shape of gumball machine. I'm not sure why, but I picked it out of the decorator's catalog, loved it, and insisted on that design for years to come. My gumball cakes were the inspiration to make these cookies Hope you enjoy!
If you are a new to decorating with royal icing, here are some helpful tips and links:
I used my grandma's sugar cookie recipe, which is listed below.  Another good cut-out cookie recipe can be found at Bridget's wonderful Bake at 350.
I used a royal icing recipe from Annie's Eats, which is listed below.
If you are new to decorating with royal icing, please visit this post by Annie's Eats, which will teach you about outlining and flooding.  Bake at 350 is also a great resource for cookie decorating and ideas (I love Bridget's book, too!).
Here are the specifics on how I made these cookies:
I ordered the gumball cookie cutter from Copper Gifts.
The "gumballs" are a Wilton product — I found them at Hobby Lobby.
You will need black food coloring — as well as coloring for the machine.  I chose red, but you could use any color you'd like. I used AmeriColor's Super Black and Super Red dyes.
Omi's Sugar Cookies
Print Recipe
1 cup butter
1 cup sugar
1 large egg
1/2 teaspoon salt
3 cups flour
1 teaspoon baking soda
1/2 cup sour cream
1 teaspoon nutmeg
Beat butter and sugar. Add eggs, sour cream, and nutmeg. Add dry ingredients gradually. Chill the batter overnight or for at least 4 hours. Roll out dough and cut with cookie cutters. Bake at 350F until golden (in true fashion, my grandma didn't give a specific baking time. I baked the cookies for about 8 minutes).

White Royal Icing
4 cups powdered sugar, sifted
2 Tablespoons meringue powder
5 Tablespoons water
Directions:
Combine all ingredients in the bowl of a stand mixer fitted with the paddle attachment. Mix on low speed until the sheen has disappeared and the icing has a matte appearance (about 7-10 minutes).  Transfer the contents of the mixing bowl to an air-tight container. This will be the stiffest consistency of the icing, and at this point it is still too stiff to use for decorating. Add water a very small amount at a time and stir by hand until fully incorporated. Continue until the icing has reached a consistency appropriate for piping.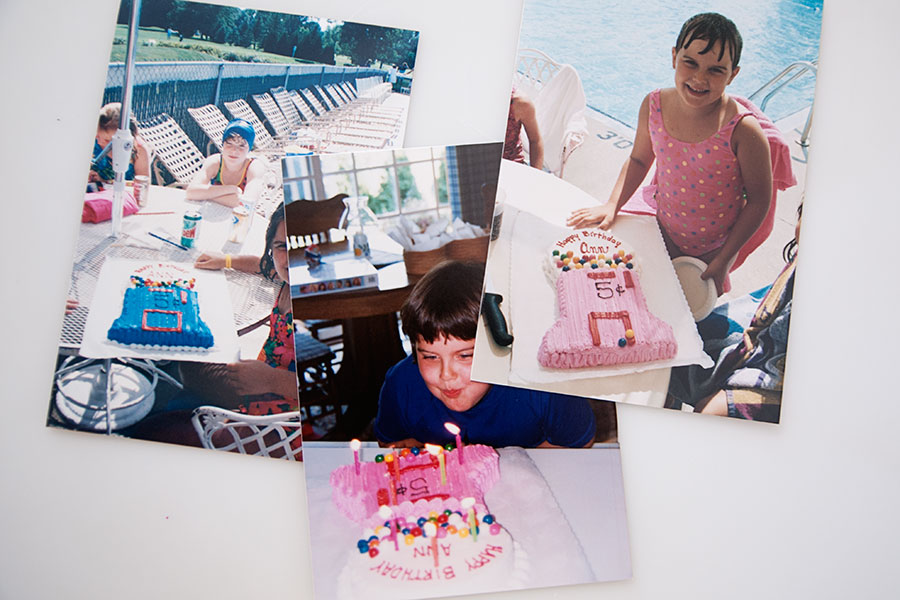 And here are some of my gumball cakes! And the secret's now officially out – I'm not a natural blonde! ;)