A friend of mine (hi, Alyssa!) asked me to make her mother a birthday cake. Her mom was turning fortysomething and LOVES Harley Davidson motorcycles. Awesome! I love a good challenge, but I also knew that attempting to create that logo out of fondant could shave a year or two off my life. I was right. It was the most challenging design I've done – but I'm so happy with how it turned out!
It's also fitting that I was asked to make this cake just weeks before I move to Milwaukee (the home of Harley Davidson). Ride on!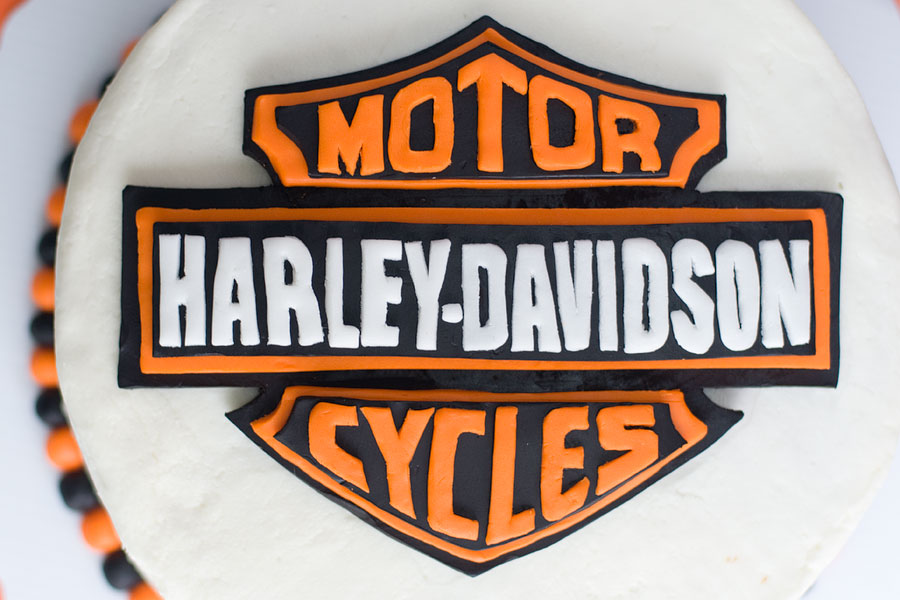 I made a three-layer 10″ cake. The bottom and top layers were white cake dyed orange and the center layer was chocolate. I tried to make a black layer, but it looks more gray than anything else. Sadface.
I frosted the cake with buttercream icing.
I created the Harley logo out of black and orange fondant. I used Fondarific fondant, which I ordered from Amazon.com. I highly recommend it!
I printed out a large high-quality version of the logo and used that as my template. I traced the general shape of the logo, but cut the letters out by hand (tracing just didn't do the job well enough). Invest in a set of Exacto knives if you're going to be doing a lot lettering – it makes it easier!
I surrounded the cake with little balls of black and orange fondant to give it a more finished appearance.
Let me know if you have any questions!