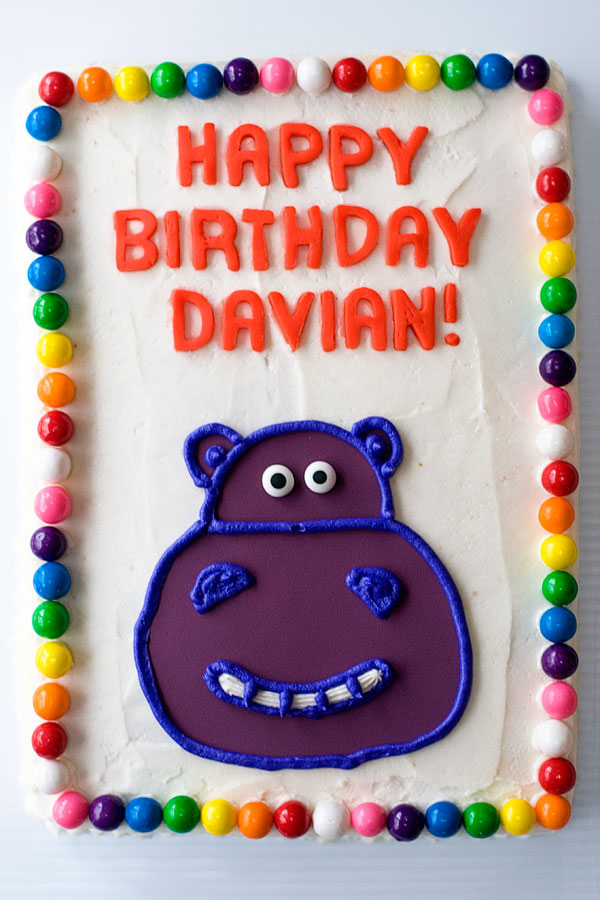 Davian's birthday was back in November (I'm soooo late in posting his cake!) and his mom said that he loved animals, specifically hippopotamuses. Here are the mish-mesh of instructions on how I created this cake.
I made a 9×13″ cake using a box mix. It's a two layer cake, so bake two 9×13″ cakes. When they are finished and fully cooled, level them with a knife. Spread frosting on top of one cake and layer them. I frosted the entire cake with white buttercream.
I cut out "Happy Birthday Davian!" out of orange fondant with small alphabet cutters.
I created the border out of small round gumballs (purchased in Target's candy aisle).
The hippo was created using a purple sugar sheet (Wilton). I cut out the shape free-hand, and then traced over it with purple and white icing to give the teeth/outline. The eyes are large candy eyes that you can purchase at specialty baking shops or online.