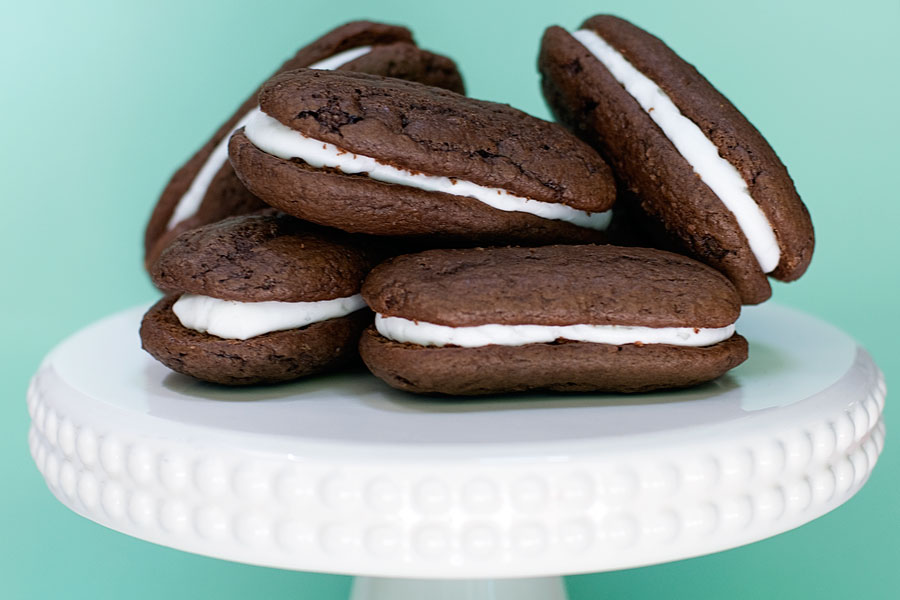 Devil Dogs are made by a company named Drake's, which is owned by Hostess. Devil Dogs are described as "An unfrosted devil's food cake sandwich with vanilla creme with round edged cake wafers resembling a hot dog." Sounds good to me!
Homemade Drake's Devil Dogs
Recipe source: Family Circle Magazine 2009
Print Recipe
2 cups all-purpose flour
1 cup packed light-brown sugar
1/2 cup unsweetened cocoa powder
1 teaspoon baking soda
1/4 teaspoon salt
1 cup buttermilk
1 large egg, lightly beaten
6 Tablespoons unsalted butter, melted
1 can (12 oz) whipped vanilla frosting
1. Line 2 sheet pans with parchment paper. Preheat oven to 350F.
2. Combine flour, brown sugar, cocoa powder, baking soda, and salt in a medium-sized bowl. Whisk to blend. Stir in buttermilk egg, and melted butter. Stir with a wooden spoon until just blended.
3. Spoon some of the mixture into a large resealable plastic bag (or pastry bag). Snip a 1/2-inch corner from the bag. Pipe 3-1/2 by 1-inch logs, about 2 inches apart, on prepared pan, about 12 per pan. Bake 12-14 minutes or until firm to the touch. Transfer to wire rack and let cool completely.
4. Spoon the frosting into a second resealable bag. Snip a 1/2-inch corner from the bag. Pipe some of the frosting onto the flat side of half of the cookies. Sandwich with another cookie, flat side against frosting. Continue with remaining cookies and frosting.
*Makes 12 servings.