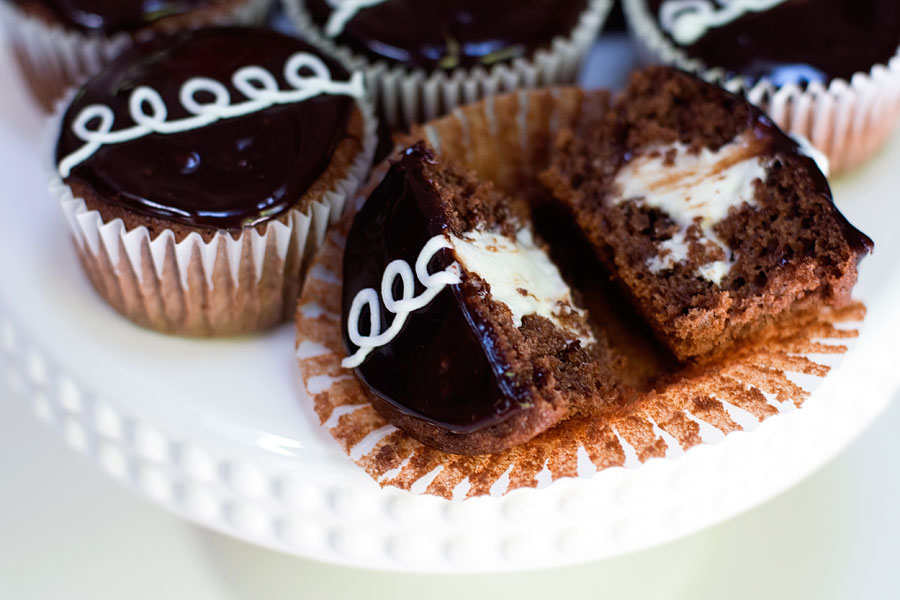 I saved my favorite for last! I LOVE the classic Hostess Cupcake. When I was a little kid my grandma used to treat me to these cupcakes or Ho-Hos for my after-school treat. The first Hostess cupcake was sold on May 11, 1919 (which also happens to be my grandpa's birthdate – see, all good treats are tied to your grandparents in some way or another!). The filling and the squiggles were added in 1950.
In addition to the classic chocolate version, Hostess also sells Golden (frosted yellow cake with cream filling), Orange (orange-flavored cake with cream filling), and Strawberry (strawberry-flavored cake with cream filling) cupcakes. I've always loved the variety that looks like baseballs.
Homemade Hostess Cupcakes
Recipe sources: Family Circle Magazine 2009 & whatmegansmaking.com
Print Recipe
2 cups all-purpose flour
1 cup unsweetened cocoa powder
1-1/2 teaspoon baking soda
1/2 teaspoon salt
1-1/2 cups buttermilk
1 teaspoon vanilla extract
1/2 cup (1 stick) unsalted butter, softened
1-1/2 cups sugar
3 large eggs
Filling:
4 Tablespoons unsalted butter, softened
1 cup powdered sugar
2 teaspoons pure vanilla exrtact
3 Tablespoons heavy cream
1 cup marshmallow creme
Ganache:
6 ounces bittersweet chocolate, chopped
1/2 cup heavy cream
1 Tablespoon unsalted butter
2 teaspoons pure vanilla extract
Icing:
1 stick unsalted butter
1 1/2 – 2 tablespoons milk
2 cups powdered sugar
1/4 tsp vanilla
1. Preheat oven to 350F. Line 24 muffin cups with paper liners.
2. Combine the flour, cocoa, baking soda, and salt in a medium bowl. Whisk to blend. Combine the buttermilk and the vanilla in a measuring cup.
3. Beat the butter and the sugar in a medium mixing bowl with an electric mixer on medium high speed until light and fluffy. Add the eggs one at a time, beating well after each addition. Add the flour mixture alternating with the buttermilk mixture, starting and ending with the flour mixture.
4. Divide the batter between the prepared muffin pans. Bake 18-20 minutes or until a tester comes out clean. Transfer to a wire rack to cool.
Filling:
While cupcakes are cooling, make the filling. Using a mixer, cream the butter until light and fluffy. Beat in 1/2 cup confectioners' sugar. Add the vanilla and 1 tablespoon heavy cream and beat until smooth. Alternating between batches, beat in the remaining 1/2 cup confectioners' sugar and 2 tablespoons heavy cream. Beat in the marshmallow creme. Refrigerate until ready to use.
Ganache:
Place the chocolate in a stainless-steel bowl. Heat the cream and 1 tablespoon butter in a saucepan until just boiling, then pour over the chocolate. Let stand for 5 minutes. Whisk until smooth. Add 2 teaspoons vanilla; let stand until cool but still glossy and liquid.
To Assemble:
Spoon the filling into a pastry bag with a medium star tip. Insert the tip into the center of each cupcake top; fill until the cupcake is heavier (do not overfill). It's OK if some of the filling peeks out, it will be covered by the ganache. (I thought this part would be complicated and I was worried, but it was fine. I had Mike test one of the cupcakes to make sure I had the right amount of filling in it.) Spoon a little ganache on each cupcake and lightly spread with an offset spatula or a knife. Chill for at least 15 minutes.
Meanwhile, prepare the icing:
Using a mixer, beat the remaining 1 stick butter, 1/4 teaspoon vanilla, milk and confectioners' sugar until smooth, adding more milk if needed. Spoon into a pastry bag with a small tip. Pipe onto the cupcakes to decorate.
*Makes 20-24 cupcakes. Store in the refrigerator.