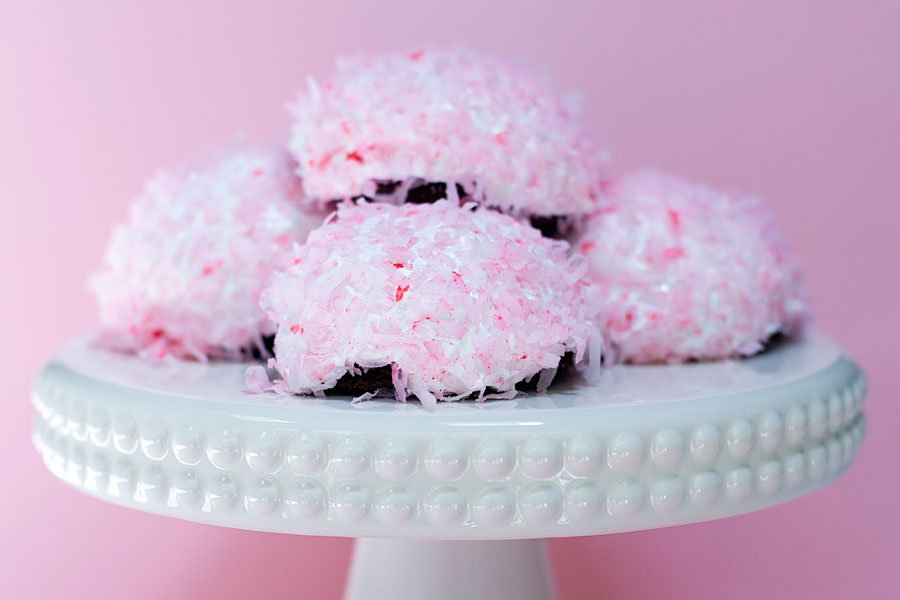 If you are a regular reader of this blog you know that I cannot stand coconut. But I had to include Sno Balls in this week's series! Sno Balls are pink and cute and will forever remind of "Overnight Delivery", a not-so-great movie from 1998 staring Paul Rudd and Reese Witherspoon. There's a scene in the movie where they are at a gas station and Reese's character buys a package of Sno Balls – and a joke is made about how she is the only one on the planet to actually like eating them. Has anyone else seen this gem* of a movie? [And by "gem" I mean cheesy-but-awesome-because-it-stars-Paul-and-Reese-before-they-were-famous]
Sno Balls were introduced in 1947 and originally lacked the cream filling. The cream filling was added in 1950 along with pink food coloring.. to spruce up the formerly white Sno Ball. Other colors besides pink are sold throughout the year: white (during winter), orange (Scary Cakes for Halloween), neon green (Glo Balls for Halloween), green (Lucky Puffs for St. Patrick's Day), and lavender (Hoppers for spring). [trivia courtesy of Wikipedia]
Homemade Hostess Sno Balls
Recipe source: kokocooks.blogspot.com
Print Recipe
Cake:
1/2 cup plus 1 Tablespoon unsweetened cocoa powder
1-1/2 cups cake flour
1/2 teaspoon salt
1 teaspoon baking soda
1/4 teaspoon baking powder
1 stick unsalted butter, softened
1-1/2 cups sugar
2 large eggs, room temperature
1/2 cup brewed coffee
1/2 cup milk
Marshmallow coating:
1 lb sweetened, shredded coconut
Pink gel food coloring (optional)
1-1/2 packets of unflavored powder gelatin (about 9 grams)
1/4 cup cold water
1 cup sugar
1/3 cup corn syrup
2 Tablespoons water
1/4 teaspoon salt
1/2 teaspoon vanilla
Creme filling:
1/2 teaspoon warm water
Dash of salt
Half of a 7 oz. jar of marshmallow fluff
1/4 cup shortening
2 Tablespoons powdered sugar
1/4 teaspoon vanilla extract
For the cake:
1. Preheat oven to 350 F. Butter and flour the wells of 2 mini-rounded cake pans. [I used a Wilton Mini Ball pan from Amazon.com]
2. Sift the cocoa powder, cake flour, salt, baking soda, and baking powder together. Set aside. In a medium bowl, beat the butter and sugar until smooth. Add eggs one at a time and beat until well combined.
3. In a separate bowl, combine the coffee and milk. Stir half the dry ingredients into the butter mixture. Stir in the coffee/milk mixture. Add the remaining dry ingredients and stir to blend. Pour batter into prepared cake pans until 2/3 full. Bake until a toothpick inserted in the center comes clean, about 18 minutes. Let cakes cool completely before turning the pan over to remove them.
For the marshmallow coating:
1. Pour coconut into a bowl. Mix with a teeny bit of food coloring. Mix well to evenly tint the coconut. Set aside.
2. Place the 1/4 cup of cold water in the bowl of a stand mixer. Sprinkle the gelatin over the water, and let set. In a medium saucepan, combine the sugar, corn syrup, and 2 Tablespoons water. Bring to a rolling boil. Fit the whisk attachment to the stand mixer, and turn to low to break up the gelatin. Pour the corn syrup mixture into the stand mixer with the gelatin and beat on high for 4 minutes. Stop the mixer and add the salt and vanilla. Continue beating on high for another 6-8 minutes. Remove bowl from mixer.
3. Using a spoon or an off-set spatula, dip the rounded side of the cakes into the marshmallow. Quickly roll the marshmallow-coated cake in the coconut, making sure to cover the entire marshmallow surface. Place uncoated side down on a sheet to set.
For the creme filling:
1. Combine salt and water in a small bowl. With a mixer, combine fluff, shortening, sugar, and vanilla. Beat until fluffy. Add the salt mixture, and beat until combined.
2. Using a large plain decorator's tip, pipe the filling into the center of each cake, from the bottom.
*Makes 12-16 servings.