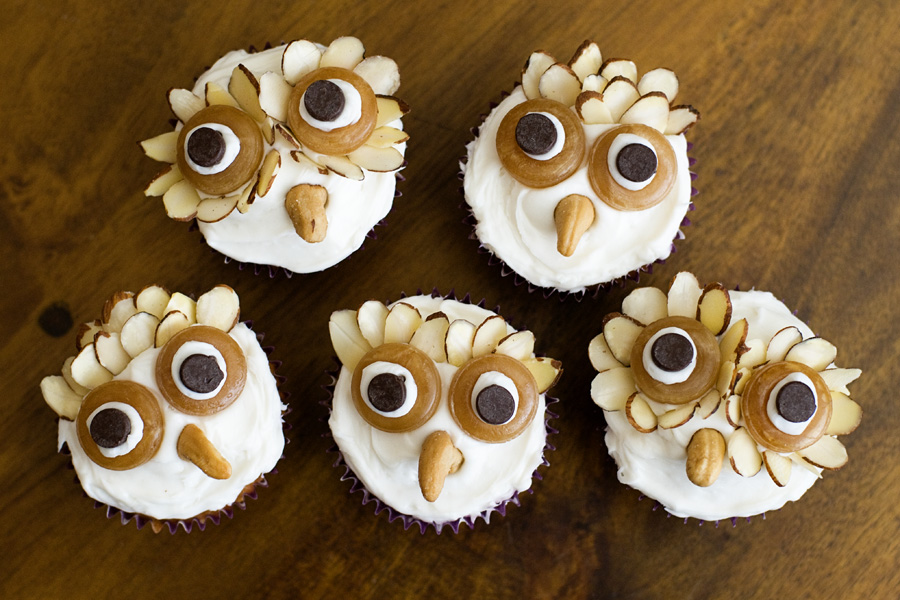 Hoot hoot! I love owls. This is not the first time owl cupcakes have made an appearance on this blog and I'm sure it won't be the last.
Halloween Hoot Owls
Recipe source: Land O Lakes
Print Recipe

Cupcakes
1 package butter recipe white cake mix
1-1/4 cups water
1/2 cup butter, softened
3 egg whites
1 teaspoon almond flavoring
1 cup sweetend flaked coconut (I'm not a coconut fan, so I omitted this ingredient)
Frosting
3-1/2 cups powdered sugar
8 oz cream cheese, softened
1/4 cup butter, softened
1 Tablespoon milk
Decorations (if making 24 cupcakes)
48 butter rum-flavored candies with holes (Lifesaver brand)
1/2 cup sliced almonds
24 whole cashews
Handful of chocolate chips
1. Preheat oven to 350F.
2. Combine all ingredients except coconut in large bowl. Beat according to box directions. Gently stir in coconut. Fill paper-lined muffin cups two-thirds full. Bake for 19-22 minutes or until tester comes out clean. Cool completely.
3. Combine all frosting ingredients in medium bowl. Beat at medium speed, scraping bowl often, until creamy.
4. Frost cooled cupcakes.
5. Place 2 butter rum candies on each cupcake for eyes. Dip bottoms of chocolate chips into frosting; place onto each candy circle to form center of eye. Arrange almonds above eyes for feathers. Add cashew for beak.
Store refrigerated in container with light-fitting lid.
*If you can't find butter rum candies, you can always use yellow or orange Lifesavers instead.