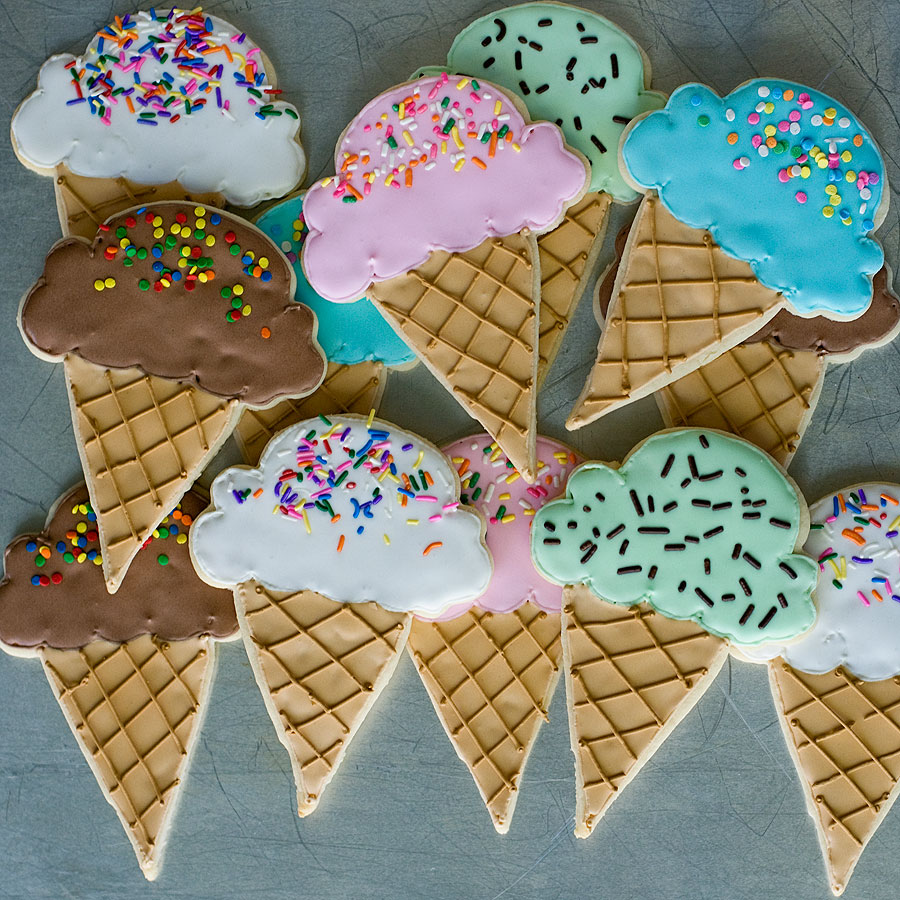 Summer is winding down and signs of autumn are starting to pop up. But I'm going to cram one more week of summer treats on my blog! Few things make me more nostalgic than an old-fashioned ice cream shop. I love ice cream and I really do think it's one of the world's most perfect creations. What is your favorite flavor? I love mint chip, cookies 'n' cream, or butter pecan.
I've seen countless variations of the ice cream cut-out cookie floating around on the internet and on Pinterest. I took my inspiration from here there and everywhere to make these. I hope you've had a wonderful summer!
Ice Cream Cone Cookies
Cookie recipe source: Bake at 350
Print Recipe
3 cups all-purpose flour
2 tsp baking powder
1 cup sugar
2 sticks (salted) butter, cold & cut into chunks
1 egg
3/4 tsp pure vanilla extract
1/2 tsp pure almond extract
1. Preheat oven to 350.
2. Combine the flour and baking powder, set aside. Cream the sugar and butter. Add the egg and extracts and mix. Gradually add the flour mixture and beat just until combined, scraping down the bowl, especially the bottom. [the dough will be crumbly; not to worry, just knead it together a bit with your hands]
3. Roll on a floured surface to about 1/4″ to 3/8″ thick, and use a large ice cream cone cookie cutter. Place on parchment lined baking sheets (tip: freeze the cut out shape on the baking sheet for 5 minutes before baking) and bake for 10-12 minutes.
4. Let sit a few minutes on the sheet, then transfer to a cooling rack.
White Royal Icing
Recipe source: Annie's Eats
4 cups powdered sugar, sifted
2 Tablespoons meringue powder
5 Tablespoons water
1. Combine all ingredients in the bowl of a stand mixer fitted with the paddle attachment.
2. Mix on low speed until the sheen has disappeared and the icing has a matte appearance (about 7-10 minutes).
3. Transfer the contents of the mixing bowl to an air-tight container.
Chocolate Royal Icing (just for the chocolate cones)
3-3/4 cups powdered sugar
1/3 cup cocoa powder
7 Tablespoons water
3 Tablespoons meringue powder
1. Mix all ingredients using a stand mixer fitted with the paddle attachment.
2. Transfer icing to an air-tight container.
3. Add water, small amounts at a time, until you've reached a consistency appropriate for piping.
My Instructions

First, if you have never made cookies involving royal icing, I'd highly recommend this tutorial from Annie's Eats or visit Bridget's blog, Bake at 350, for all the tips and tricks you'll need.
I'm not going to re-invent the wheel, so please refer to the links above regarding outlining and flooding. You will need small round pastry tips, disposable bags, and plastic bottles for flooding. Again, Annie's tutorial linked above takes you through all of this.
I made a couple batches of the white royal icing for these and divided the icing into various tupperware containers. You'll need just one batch of the chocolate royal icing. In fact, you could even cut that recipe in half — as you won't use a ton of it.
I wanted to make vanilla, strawberry, chocolate, mint chip, and blue moon cones. You can do whatever flavors you'd like!
I used Wilton gel dyes — you'll need pink, green, blue, and brown. There is no great science to this — just use trial and error to get the color that you're looking for. I used brown gel coloring for the cones — it turned out more tan than brown, so it worked out well.
If you want to add sprinkles to your cones, do so after you let the flooded icing sit for just a few minutes. If you sprinkle the cones right away, the colors might bleed because the icing will be so wet.
And finally, I just want to say that I'm not great at decorating with royal icing — but I still do it because it's so cute! Don't be hesitant to try this way of decorating cookies. I'm shaky with my outlining and my flooding shows some lumps and bumps, but it's okay. They're just cookies. Enjoy them!