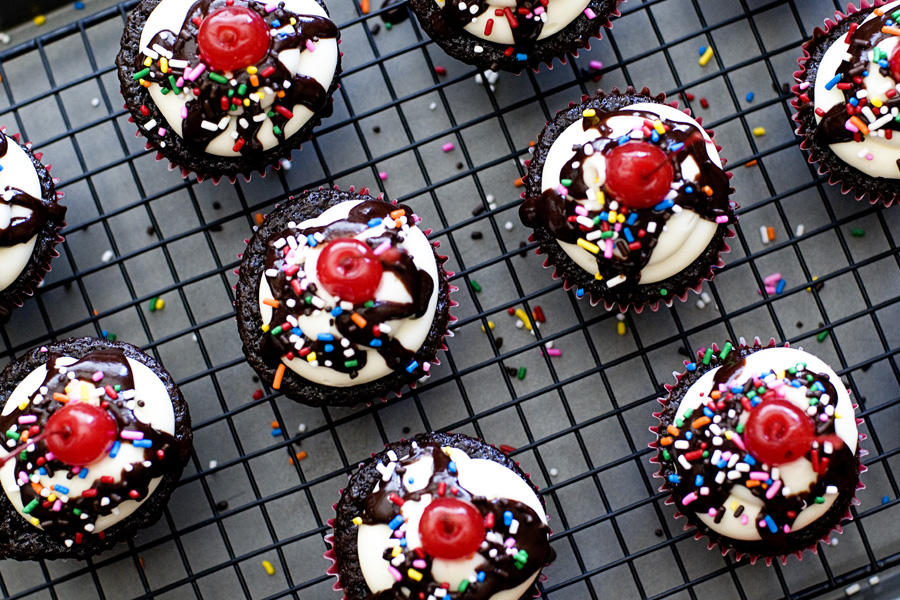 Are these just the cutest things? Even though they look like ice cream sundaes, no ice cream was involved in the creation of these cupcakes. These cupcakes are a little time-consuming to make because they involving making the cake, frosting, and two kinds of ganache – but believe me, they were a labor of love.
Ice Cream Sundae Cupcakes
Recipe source: sweetestkitchen.com
Print Recipe
Chocolate Cupcakes
1 cup sugar
3/4 cup + 2 tablespoons all-purpose flour
1/4 cup + 2 tablespoons cup cocoa powder
3/4 teaspoon baking powder
3/4 teaspoon baking soda
1/2 teaspoon salt
1 egg
1/2 cup milk
1/4 cup vegetable oil
1 teaspoon vanilla extract
1/2 cup boiling water
1. Preheat oven to 350F. Line muffin cups with paper baking cups.This recipe will make 12 cupcakes.
2. Stir together sugar, flour, cocoa, baking powder, baking soda and salt in large bowl. Add eggs, milk, oil and vanilla; beat on medium speed of mixer 2 minutes.
3. Stir in boiling water (batter will be thin).
4. Fill cups 2/3 full with batter. Bake 22 to 25 minutes or until wooden pick inserted in center comes out clean. Cool 10 minutes; remove from pans to wire racks. Cool completely.
Chocolate Ganache Filling
4 ounces semisweet chocolate
1/3 cup heavy cream
1 tablespoon butter, room temperature
1. Chop the chocolate and transfer it to a heatproof bowl.
2. Heat the cream until simmering and pour it over the chocolate.
3. Let it sit for one minute and then stir until smooth. (If this has not sufficiently melted the chocolate, you can return it to a double-boiler to gently melt what remains. 20 seconds in the microwave, watching carefully, will also work.)
4. Add the butter and stir until combined.
5. Put the ganache in the refrigerator to firm it up a bit – 15-20 minutes in the fridge will do.
6. Remove a portion of each cupcake and fill the cupcake with ganache.
Cream Cheese Buttercream Frosting
Recipe source: marthastewart.com
1 (8-ounce) package cream cheese, room temperature
1/2 cup (1 stick) unsalted butter, room temperature
1 (1-pound) box confectioners' sugar
1 teaspoon pure vanilla extract
1. Cream the butter and cream cheese with an electric mixer.
2. With the mixer on low, slowly add the powdered sugar – scraping down the sides of the bowl as necessary.
3. Add the vanilla and increase mixer speed to medium. Blend until frosting is fluffy – about 1 minute.
4. Frost the cupcakes using a round piping tip.
Chocolate Ganache Glaze
3 ounces semisweet chocolate
1/3 cup heavy cream
1/2 tablespoon light corn syrup
1. Place chocolate in a medium-size heatproof bowl. Bring cream and corn syrup just to a simmer in a small saucepan over medium-high heat; pour mixture over chocolate. Let stand, without stirring, until chocolate begins to melt.
2. Gently stir chocolate and cream until totally combined; begin near the center of the bowl and gradually work your way toward the edge, pulling in as much chocolate as possible, until the mixture is smooth and glossy.
3. Drizzle over cupcakes, add sprinkles, and top with a cherry.
And here's one more photo, just because: