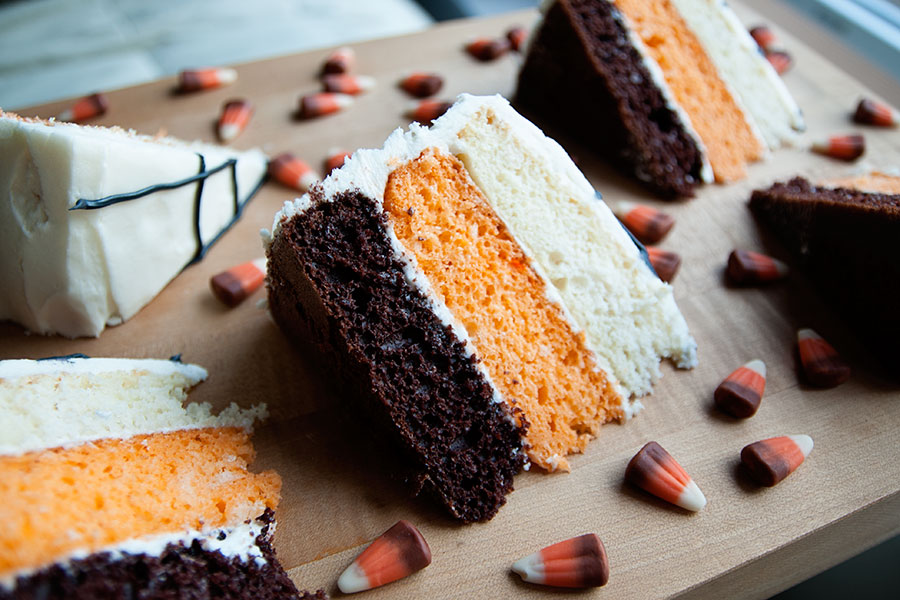 I've always liked Indian candy corn better than plain candy corn. It's like that little sliver of chocolate somehow helps to make the candies less sickly sweet. I've seen a ton of Indian candy corn-inspired caked on Pinterest and other food blogs over the years and finally decided to make one.
I also tried to make the outside of the cake look like a cute little spider web — but that was a huge failure, so you don't get to see those pics. ;-) Frosting cakes is one of my baking/decorating weak spots. I really should take a class or something so I can improve!
But the rest of the cake turned out well — semi-homemade and all!
Indian Corn Cake
Print Recipe
You will need:
1 box of white cake mix (plus required oil, eggs)
1 box of chocolate cake mix (plus required oil, eggs)
Orange food coloring
1 batch of buttercream icing (I used the white buttercream icing recipe here)
3 8″ or 9″ cake pans (or you can use just one pan, cleaning it between making each layer)
1. Preheat oven according to box cake mix directions.
2. Make the white cake mix batter; divide the batter in half and dye one half orange. I used Wilton gel dye for this. Spray two of your cake pans with non-stick spray and fill each one with cake batter — making one white cake and one orange cake. Bake and allow the cakes to cool completely.
3. Make the chocolate cake mix batter. Spray a cake pan with non-sticks spray and fill with chocolate cake batter (you won't use all of the batter for this). Bake and allow the cake to cool completely.
4. While your cakes are cooling, make your batch of buttercream icing.
5. If your cakes came out of the oven with little "domes", cut those down with a large knife – so you have nice, flat cakes to layer.
6. Assemble the cake on a cake plate or stand. Start with the chocolate layer on the bottom, then the orange layer, then the white layer. Make sure you spread a thin layer of buttercream between each layer. When the cake is assembled, cover it with white buttercream and enjoy!