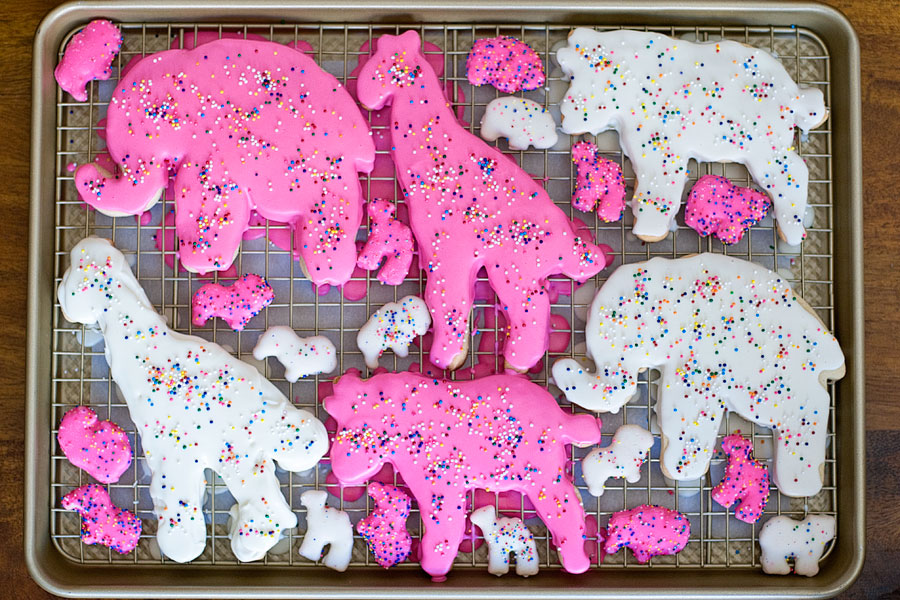 I think that there are some foods that are universally nostalgic for everyone. Pink and white animal cookies have to be included on that list. I always used to think that the pink cookies tasted different (and better) than the white cookies, but that was wishful thinking on the part of my 6-year old self.
Mother's Cookies was the original company that made pink and white circus animal cookies. In 2008 the company abruptly closed, sending pangs of nostalgia and outrage into those of us that grew up with these cookies. A t-shirt was even created that said "Lights down, little cookies" and showed drawings of the little pink and white cuties. Luckily Kellogg's came to the rescue and purchased the trademark and recipes for the Mother's Cookies brand in late 2008 — and the cookies have been restored to grocery shelves! [though I hear they are only sold on the west coast — can anyone confirm this?]
I found a set of Martha Stewart animal cookie cutters during a Macy's after-Christmas sale. That find, combined with an idea found on Pinterest, has inspired this post!
Jumbo Animal Cookies
Inspired by Munchkin Munchies
Print Recipe
You will need the ingredients for your favorite cut-out cookie recipe (I've included one below), a tub of vanilla store-bought frosting*, pink food coloring, and multi-colored sprinkles.
Almond Flavored Sugar Cookies
1 cup butter
1 cup powdered sugar
1 egg, beaten
1-1/2 teaspoon almond extract
1 teaspoon vanilla
1 teaspoon salt
2-1/2 cups sifted flour
Directions:
Cream butter. Add powdered sugar. Blend in egg, almond extract, vanilla, salt and flour. Chill dough until firm. Roll to ¼â€ thickness on well-floured surface. Cut with cookie cutters. Place on greased cookie sheets. Bake at 375° for 8-10 min. Cookies should not brown. Frost and decorate when cool. Yield will depend on size of cookies.**
*Sad story — I originally made a batch of my favorite buttercream frosting, microwaved it to create a coating, but the butter separated out and I ended up with a soupy mess. Trust me, go with store-bought frosting with these. It's easier, it's predictable, and you'll have no problems heating it!
**Note, since these cookies are so large, you might want to make a double batch of this dough. I got about 6 large cookies out of one batch.
Once your cookies are baked and cooled, divide the tub of store bought icing into two glass bowls. Tint one batch pink and leave the other as-is.
Microwave the frosting for about 20 seconds. Do this at 10-second intervals, stirring in between each. Do not allow the frosting to melt too much. You want frosting that you can coat your cookies with.
Place all of your cookies on a cooling rack and place the cooling rack on top of a baking sheet (to catch the drips of frosting). Spoon white or pink frosting onto each cookie.
Sprinkle each cookie with the nonpareils.