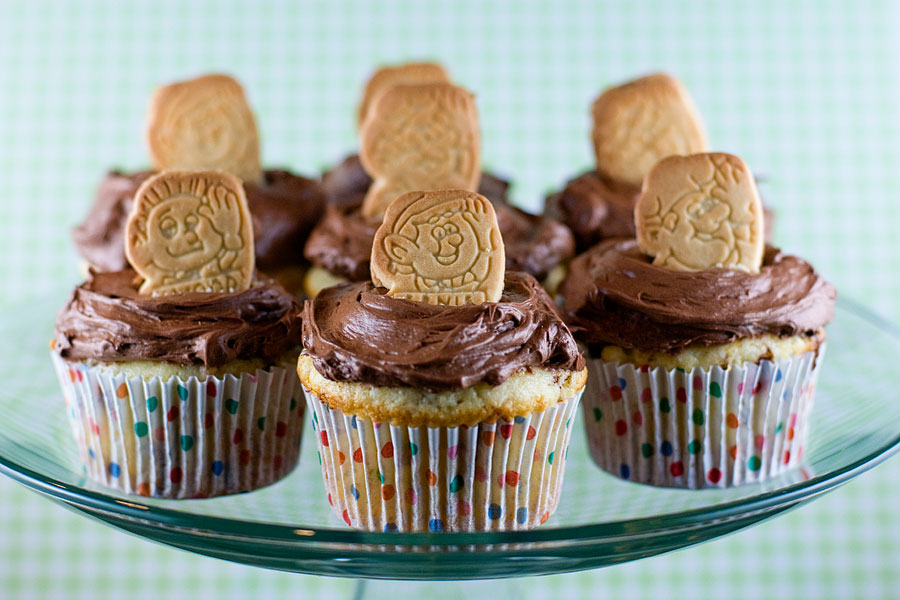 You ever have one of those baking experiences that makes you want to quit baking forever? Making these cupcakes was one of those experiences. Good. Lord. Everything that could go wrong did go wrong. I dropped the Elf cookies on the floor. Had to buy new ones. Turned my mixer on too quickly and cake mix poofed up all over my kitchen ("poofed up" is such a technical term…). I wanted to make the chocolate icing look pretty, but realized I was all out of piping bags. I tried to use a Ziploc bag instead and the bags kept ripping at the seams. Then the homemade chocolate buttercream also got dropped on the floor in the busted Ziploc bag. Gaaaaahhhhhh!
So I had to ultimately frost these babies with chocolate frosting from a can. Because I just didn't have the energy to start over AGAIN. But trust me when I say that the original homemade chocolate buttercream was delicious. Too bad it ended up on my kitchen floor.
But I know that when you make these, you'll have an easier time!
Keebler Elf Cupcakes
Recipe source: yourcupofcake.com
Print Recipe
Cake:
1 box white cake mix
3 eggs
1/3 cup oil
3/4 cup milk
3/4 cup sour cream
2 teaspoons vanilla extract
3/4 cup Keebler Fudge Cookies chopped
Chocolate Frosting:
1 cup butter, softened
2 teaspoons vanilla extract
1/2 cup unsweetened cocoa
1 tablespoon malted milk powder
1 tablespoon milk
3-4 cups powdered sugar
1. Preheat oven to 350 degrees and line pans with cupcake liners.
2. Sift cake mix into a small bowl and set aside.
3. In a large bowl, gently whisk eggs, oil, milk, sour cream and vanilla extract together.
4. Add cake mix and stir until smooth.
5. Fold in cookie fudge cookie pieces.
6. Fill cupcake liners 3/4 full and bake for 17-22 minute or until an inserted knife comes out clean. Let cool on a wire rack.
7. Frosting: Beat butter and vanilla extract. Add cocoa, malted milk powder and milk. Scrape down the bowl often. Slowly add powdered sugar until you reach your desired consistency. Use more milk to thin if needed.
8. Pipe frosting onto cooled cupcakes and top with a piece of cookie.
Makes about 2 dozen cupcakes.