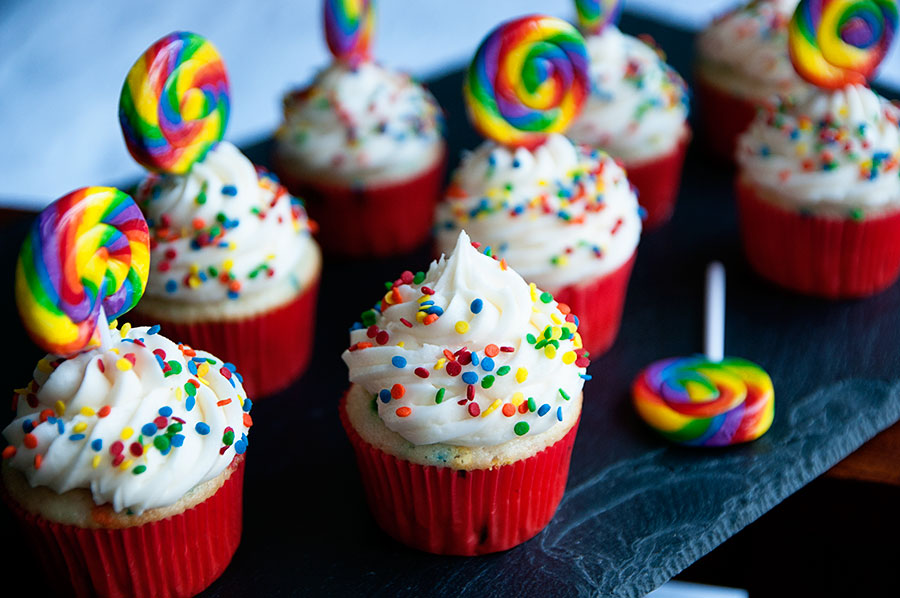 This is kind of a weird post because there's no real or interesting recipe to present. It's just a decorating idea. I found these rainbow lollipops waaaaaay in the back of my cupboard. I don't even remember buying them (a true sign that I have too many baking goodies, right?). But HELLO, they are rainbow so I love them and wanted to use them for something.
These cupcakes would work for a birthday party — or just for fun! As is often the case, I was short on time and went the semi-homemade route, using a box cake mix but homemade buttercream. Enjoy!
Lollipop Cupcakes
Print Recipe
1 box white or yellow cake mix, plus required oil + eggs
1 batch of buttercream icing (I like the White Buttercream recipe found here)
A disposable pastry bag + a large star pastry tip
Rainbow sprinkles, rainbow lollipops for decoration
1. Make the cupcakes according to box directions and allow them to cool completely.
2. Make the buttercream icing and pipe onto each cupcake. I used a large star pastry tip on my cupcakes, but other tips will work!
3. Decorate with sprinkles + lollipops.
See what a silly post this is? There's nothing to say! But I hope the decorating gave you some ideas :)