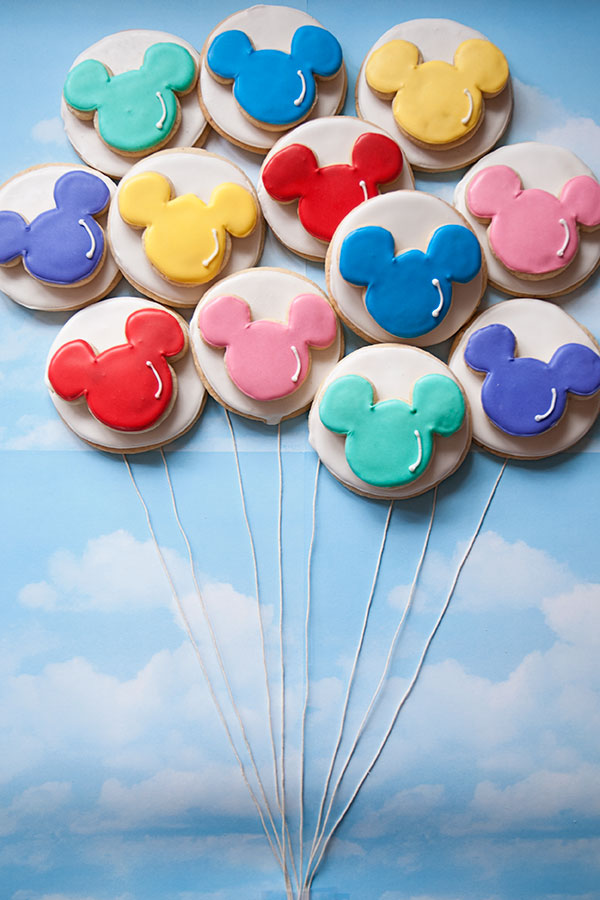 You guys, I LOVE DISNEY BALLOONS. I have loved balloons since I was young, but the Mickey balloons at Disney World or Disneyland? A whole other level of adoration. Just ask Andrea who traveled to Disney World with me — and gracefully and patiently put up with me squee-ing and freaking out every time a balloon vendor walked by. There's something about a balloon that is just happy, you know? Anyway, I decided to attempt to make Mickey balloon cookies — as a tribute to my love for them. I think these cookies turned out pretty well! [keep scrolling to the end of the post to see more pics!]
If you are a new to decorating with royal icing, here are some helpful tips and links:
I used my grandma's sugar cookie recipe, which is listed below.  Another good cut-out cookie recipe can be found at Bridget's wonderful Bake at 350.
I used a royal icing recipe from Annie's Eats, which is listed below.
If you are new to decorating with royal icing, please visit this post by Annie's Eats, which will teach you about outlining and flooding.  Bake at 350 is also a great resource for cookie decorating and ideas (I love Bridget's book, too!).
Here are the specifics on how I made these cookies:
I found the Mickey Mouse cookie cutter in a three-pack – I think I bought it at Hobby Lobby or another craft store.
I used a simple circle cookie cutter for the outer part of the balloon. If you make these cookies, my advice would be to find your Mickey Mouse cookie cutter first, then try to match the size to a circle.
I make a bunch of circles and covered them in plain white icing. You don't have to do the circle step, but those of you who have been to a Disney park recently know that the Mickeys balloons are inside of a larger circular balloon.
The colors of the Mickeys are accurate to what you'll find in the parks: red, pink, yellow, green/teal, blue, and purple. I made batches of icing with each color — and outlined and flooded a few Mickeys with each.
I added a little curved line on each Mickey to make it look more like a balloon.
Below are the recipes I used for the cookies & the icing.
I used Wilton gel dyes for most of the colors. To avoid a neon pink, I used a little Dusty Rose from AmeriColor for the pink balloons — and then added just a little Wilton pink to brighten it up. The pink balloon was the hardest color to get right.
Hope you enjoy!
Omi's Sugar Cookies
Print Recipe
1 cup butter
1 cup sugar
1 large egg
1/2 teaspoon salt
3 cups flour
1 teaspoon baking soda
1/2 cup sour cream
1 teaspoon nutmeg
Beat butter and sugar. Add eggs, sour cream, and nutmeg. Add dry ingredients gradually. Chill the batter overnight or for at least 4 hours. Roll out dough and cut with cookie cutters. Bake at 350F until golden (in true fashion, my grandma didn't give a specific baking time. I baked the Mickeys for about 8 minutes, the larger circles for 10-12 minutes).

White Royal Icing
4 cups powdered sugar, sifted
2 Tablespoons meringue powder
5 Tablespoons water
Directions:
Combine all ingredients in the bowl of a stand mixer fitted with the paddle attachment. Mix on low speed until the sheen has disappeared and the icing has a matte appearance (about 7-10 minutes).  Transfer the contents of the mixing bowl to an air-tight container. This will be the stiffest consistency of the icing, and at this point it is still too stiff to use for decorating. Add water a very small amount at a time and stir by hand until fully incorporated. Continue until the icing has reached a consistency appropriate for piping.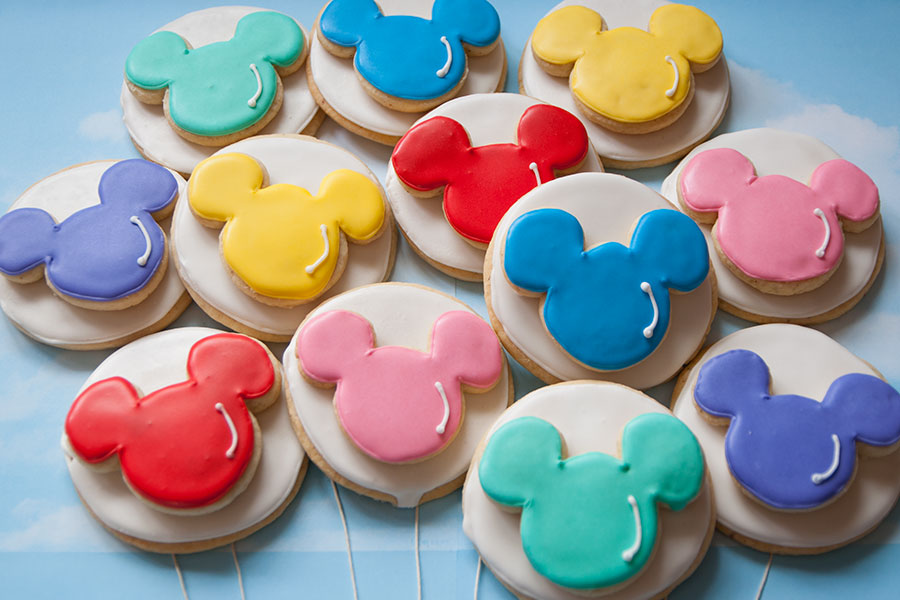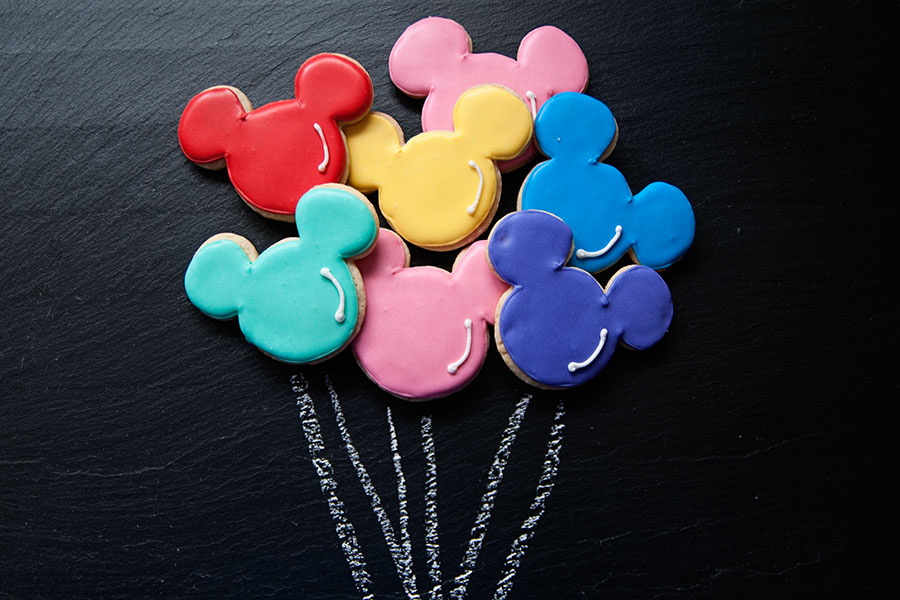 Here's another way to make them — sans white circle.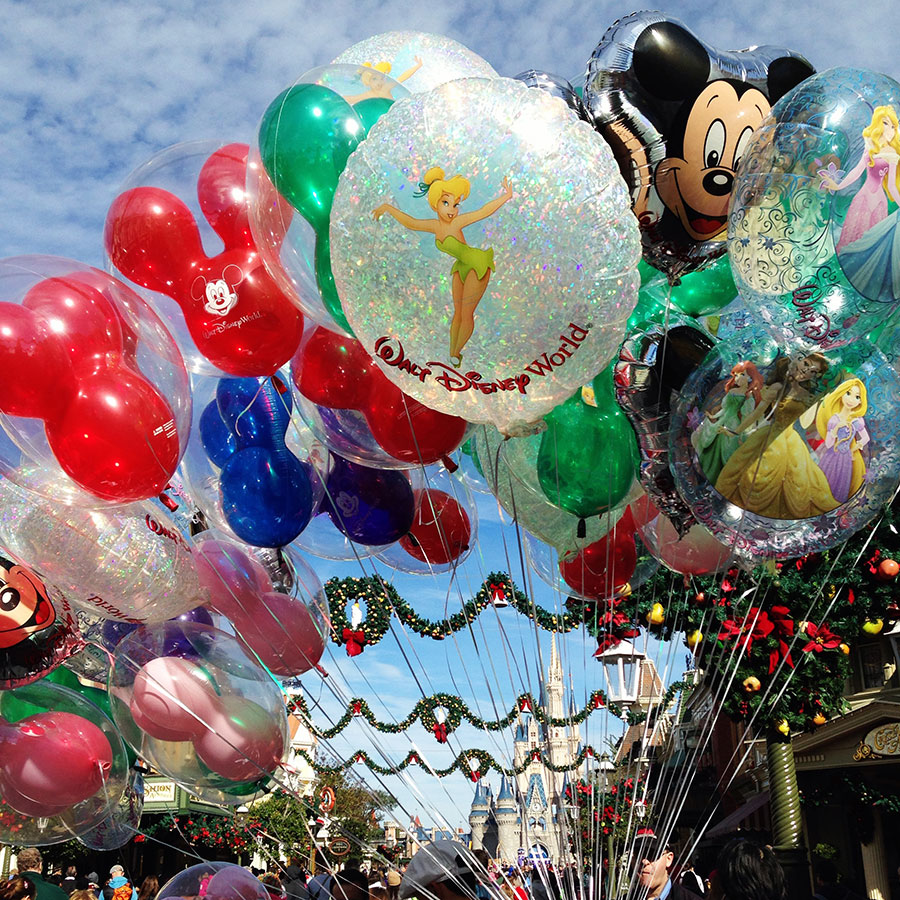 The real thing!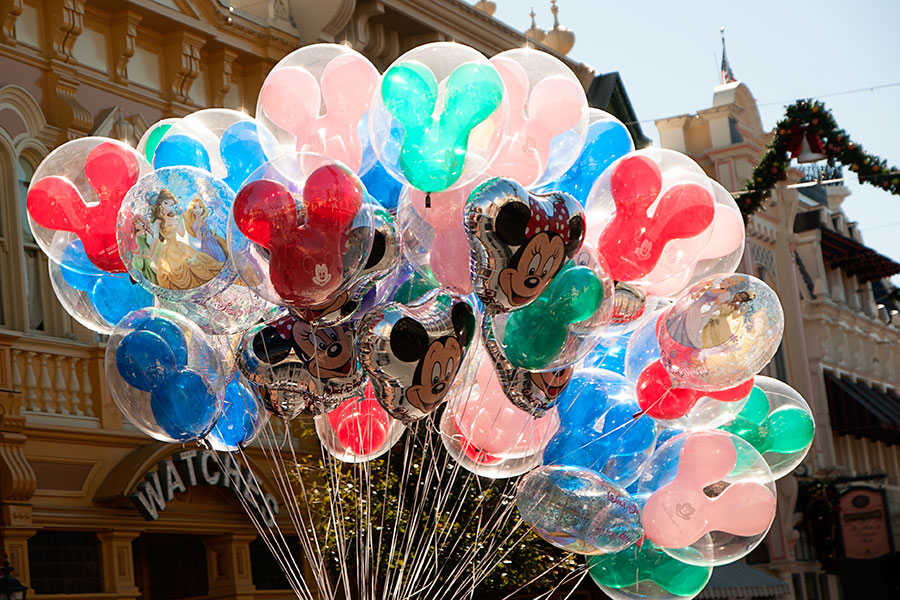 Love!

Balloon love in Frontierland.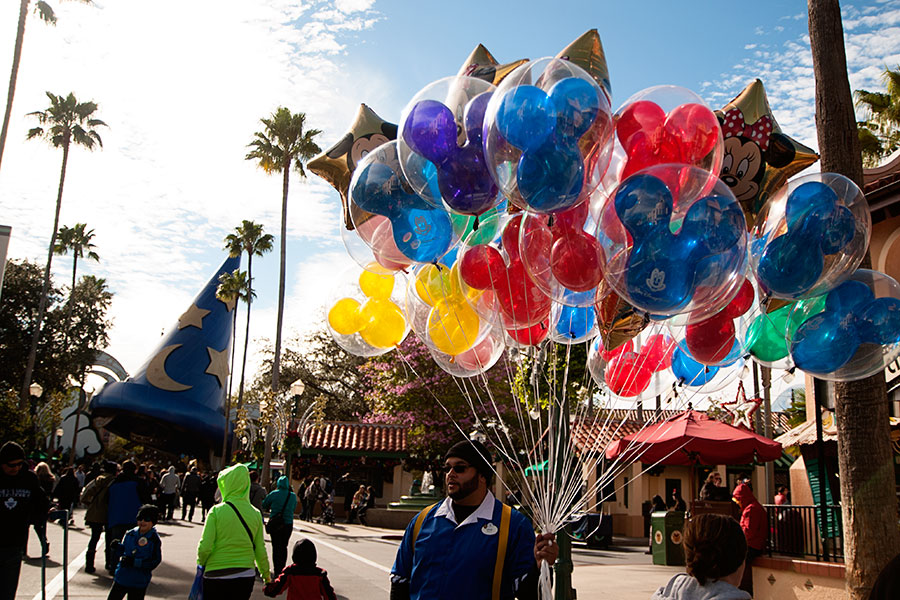 MGM (er, Hollywood Studios) was the only place I spotted the yellow balloons.
And so marks the end of my balloon geekery. Check back this week – I have a few more Disney treats coming up!