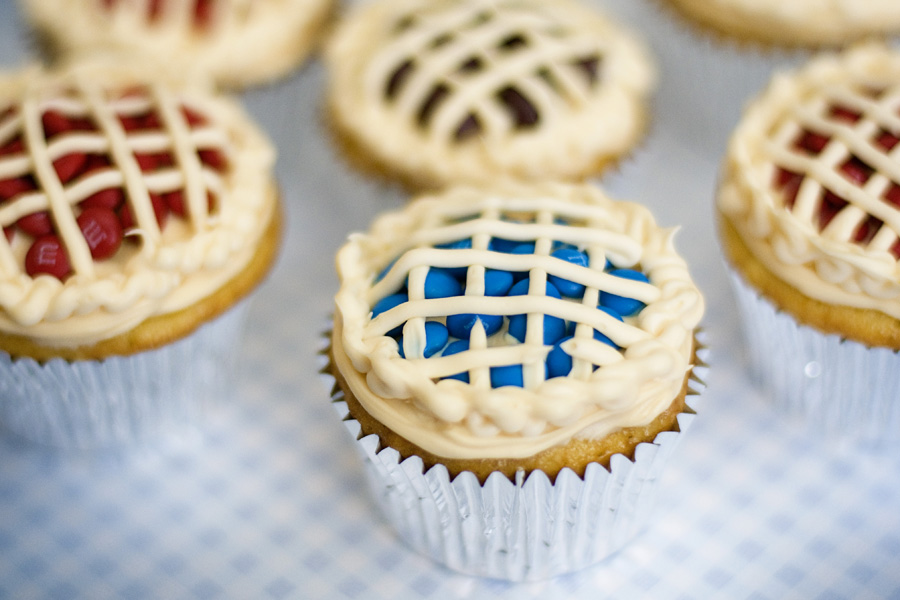 September is here! In my mind, September always marks the beginning of fall. School is back in session for most, the air starts to feel and smell different, and the leaves start to turn yellow. Fall is prime pie-baking season, but I'm not great at making pies (which Lauren has promised to help me with!) — so until my skills improve, here are some cupcakes that look like pies :)
Mini Pie Cupcakes
Inspiration from What's New, Cupcake? by Karen Tack and Alan Richardson
Print Recipe
– Bake a batch of cupcakes in silver foil liners.
– Tint frosting the color of pie crust – I used AmeriColor copper for this, using only a drop.
– Cover the cupcakes in red, blue, and purple candies to represent pie fillings. I used mini red and blue M&Ms and purple Skittles.
– Pipe the lattice of the pie crust onto each cupcake.