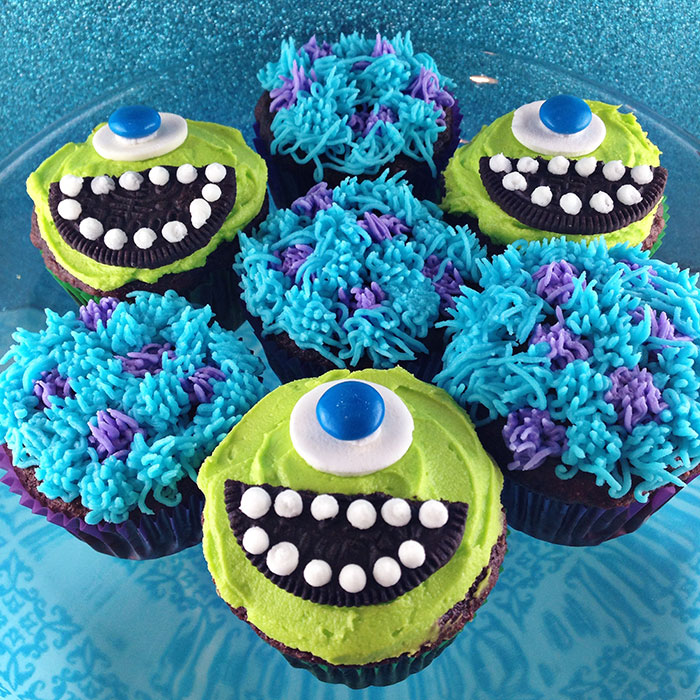 My friend Andrea and I wanted to baked something Disney-themed. We are both grown women in our twenties and we both LOVE Disney. No shame. Don't judge. What's not to like about something that reminds us of being a kid — and reminds us of an ideal world where good always wins out? 'Cause let's be real, we've learned as law students that the human world… it's a mess. [Bonus points if you knew that Sebastian/Little Mermaid reference]
So we decided on Monsters Inc. cupcakes in celebration of the new movie coming out tomorrow. We made little Sulley and Mike Wazowski treats. They were a little time consuming, but not that difficult. Here's what we did and what you'll need to make them:
Monsters Inc Cupcakes
Print Recipe
1 box cake mix (plus required oil, eggs)
Cupcake liners (we used green and purple liners, but use what you'd like)
Neon green food coloring
Neon blue food coloring
Purple food coloring
A Wilton #233 grass tip
A small Wilton round tip
3 plastic pastry bags
White Necco wafers (buy a few rolls and pick out the white ones)
Blue M&Ms
Oreo cookies
1. Make 22-24 cupcakes according to box instructions.
2. Make a batch of icing. See below:
Buttercream Icing:
Recipe source: therepressedpastrychef.blogspot.com
1 stick salted butter – room temperature
1 stick unsalted butter – room temperature
1 cup shortening
1 tablespoon clear vanilla extract**
2 pounds confectioner's sugar (powdered sugar, 10x)
4-6 tablespoons very cold milk
(The CLEAR extract is very important if you want WHITE buttercream. Most buttercream tends to have a yellow-ish tint if you use real vanilla extract)
Cream the butter and shortening in the bowl of an electric or stand mixer. Add the clear vanilla extract and combine well. Begin adding in the sugar and mixing thoroughly after each addition. After all of the sugar has been added and mixed thoroughly, begin adding the very cold milk… one tablespoon at a time, combining very well after each addition (mixer on medium-high to high speed) until you reach the desired consistency.
3. Place about 1/2 cup of the white icing into a separate bowl and set aside.
4. Divide the rest of the icing into thirds. Dye one portion neon green, one portion neon blue, and one portion purple.
5. To make the Sulley cupcakes: Fit a pastry bag with the Wilton #233 tip and fill with blue icing. Pipe patches of Sulley's blue fur onto the cupcakes using this tip. Repeat the process with the purple icing.
6. To make the Mike cupcakes: Spread the neon green icing onto each cupcake with a knife or offset spatula. Remove the filling from the Oreo cookies and cut each cookie in half. Place a half Oreo onto each cupcake and pipe little teeth onto the cookie with white icing and round tip. Place a white Necco wafer above the Oreo. "Glue" a blue M&M onto each Necco wafer using a bit of icing.
That's it! Enjoy!