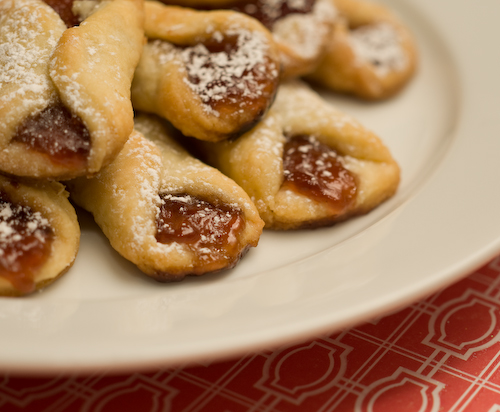 There are so many good jellies/jams/preserves out there and kolaches put them to good use! Plus, this dough comes together really quickly and behaves really well. Plus, you don't need to wait to for the dough to chill before you roll it out (I personally HATE chilling dough because I am inherently impatient).  I used pomegranate jelly I found at the store to make them seem fancy, but these are just one of those cookies that is bound to taste good with whatever you have hanging around the kitchen. Just a quick note though: when you fold the edges together, make sure you press them together really well because, as they bake, they will want to unroll on you. Trust me- I have a lot of disk-shaped kolaches with a jelly stripe that somehow didn't make it into the picture, hmm…
Orange Pomegranate Kolaches
Print Recipe
1/2 c. butter, softened
3 oz. cream cheese
1 Tbsp. sugar
1/2 tsp. salt
1/2 tsp. orange extract (or grate in some zest if you have it)
1 1/4 c. flour
~1/2 c. pomegranate jam
1/4 c. powdered sugar
Directions:
Preheat oven to 375 oF. Lightly coat a cookie sheet with cooking spray.
Cream butter and cheese together. Beat in salt, sugar and extract. Add flour and mix just until dough comes together (it will seem crumbly).
Turn dough out onto floured work surface. Knead a few times to make thee texture smooth and elastic. Roll out to 1/8″ thickness. Cut out 2″ rounds with a floured cutter.
Transfer rounds to prepared cookie sheet. Spoon or pipe a small stripe (~1/2 tsp.) down center of each round. Fold sides over each other (like a little loose burrito) and pinch edges to seal, leaving ends open.
Bake for 15 minutes. Transfer to cooling grid immediately when done. Dust with powdered sugar.