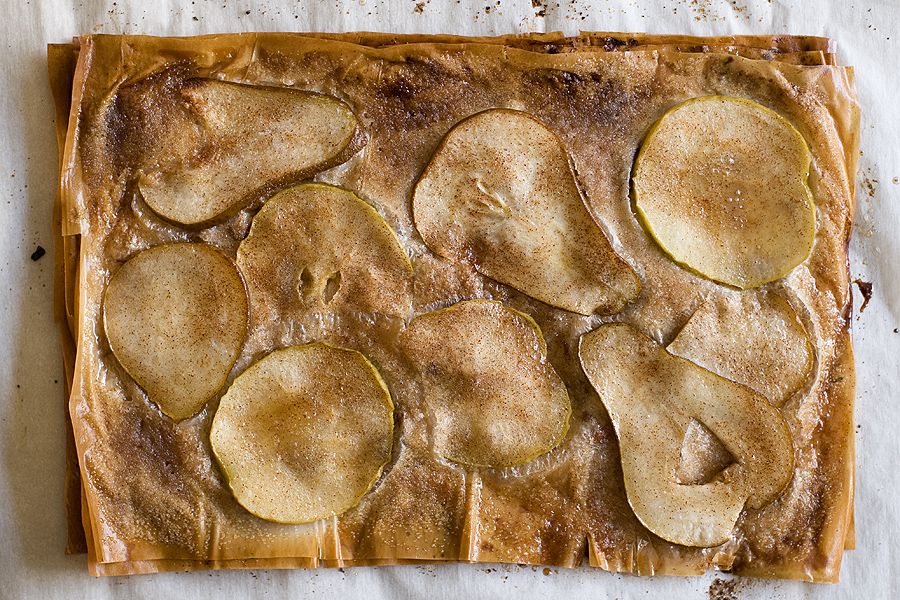 I know what you're thinking: pears and apples? Shouldn't this recipe be posted in the fall, not late spring?! I will admit that it's not seasonally appropriate, but here's the truth: my phyllo dough was about to expire and had to be used! When the scents of apple and cinnamon filled my apartment, I closed my eyes and *almost* thought it was October.
Pear and Apple Phyllo Crisp
Recipe source: Martha Stewart
Print Recipe
1/2 cup pecans, toasted and finely chopped
1/3 cup plain breadcrumbs
1/4 cup sugar, plus more for sprinkling
1/2 teaspoon ground cinnamon, plus more for sprinkling
6 sheets frozen phyllo dough (11-1/2 x 15 inches each), thawed
1 stick unsalted butter, melted
3 small firm pears (Forelle or Seckel)
2 Granny Smith apples (peeled is best, but I was too lazy to do that step!)
1. Preheat oven to 400F with a rack in the top position. Combine pecans, breadcrumbs, sugar, and cinnamon.
2. Line a baking sheet with parchment and top with 1 phyllo sheet. Brush phyllo all over with butter and sprinkle pecan mixture evenly over top. Repeat 4 times. Top with remaining phyllo sheet and brush with all but 2 Tablespoons of the butter.
3. Slice pears and apples 1/8-inch thick; discard seeds. Arrange pear and apple slices in a single layer on phyllo, leaving space between fruit and 1/4-inch border around edges. Brush fruit with reserved 2 Tablespoons butter. Sprinkle with sugar, and dust with cinnamon. Bake, rotating sheet halfway through, until phyllo is golden brown and fruit is soft — about 28-32 minutes. Let cool slightly, cut into 8 pieces.