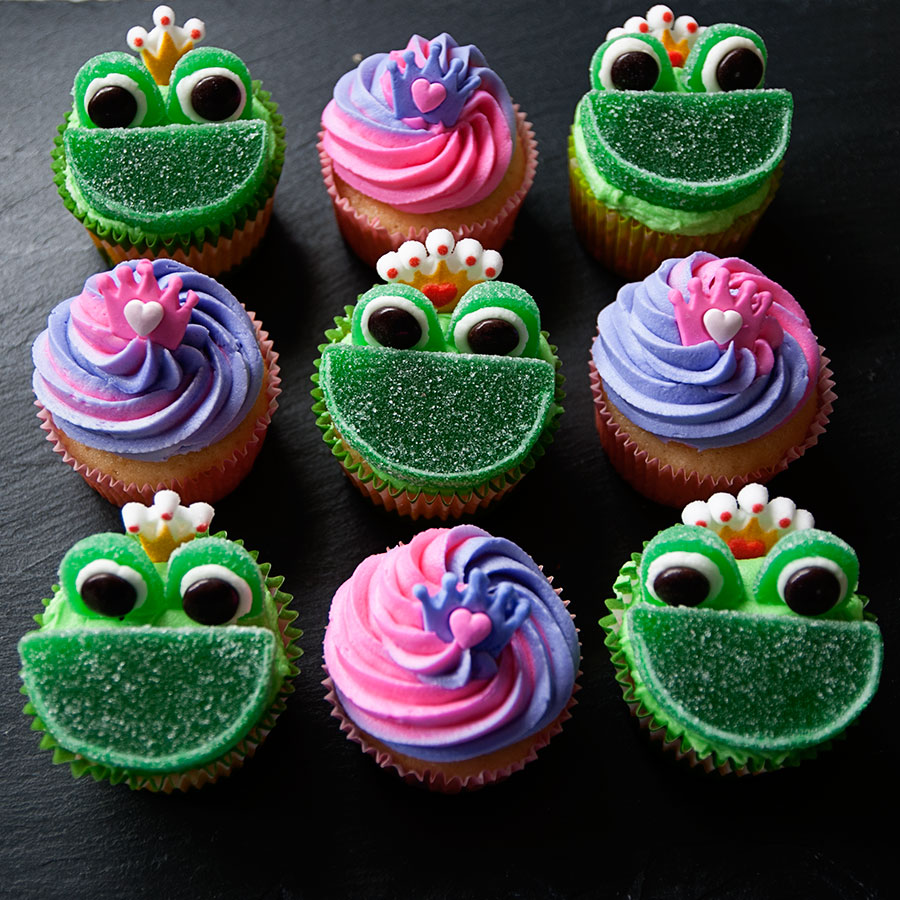 I recently watched The Princess & the Frog for the first time, upon my friend Andrea's insistence. I was skeptical because quite frankly it looked ehhhhhhhhh. I became too old (and oh, waaaay too cool) for Disney movies around the time that Aladdin was released. This means that I missed out on the cult of the Lion King, Pocahontas, the Hunchback of Notre Dame, Hercules, Mulan, Tarzan, and a long list of others. I still haven't seen most of those movies but I gave in and watched the Princess & the Frog.
IT WAS SO GOOD! For real. The music was great, the story was great, I loved it all. And I really wish New Orleans was shiny and clean and mostly innocent — just like it's portrayed in the film!
Naturally, I had to find a way to translate my love of this cute movie into some sort of baked good. Here's the result!
Princess & the Frog Cupcakes
Print Recipe
1 box cake mix (any flavor; plus required eggs and oil)
1 batch of buttercream icing (any recipe will work – or you can use store-bought vanilla icing)
Food coloring: pink, purple, green (I used Wilton gel colorings)
Crowns (the pink/purple crowns are a Wilton product; the yellow crowns I found on Amazon)
Lime flavored fruit slices
Large green gumdrops, cut in half
Brown M&Ms
Toothpicks
Disposable pastry bags + a star tip
1. Make cupcakes according to box directions and allow them to cool completely.
2. Divide your icing into three bowls; dye one bowl green, one pink, and the other purple. Leave a small amount of white icing for the frogs' eyes.
3. For the princess cupcakes, fill a pastry bag half with pink icing and half with purple. This will allow the colors to swirl when you pipe the icing onto each cupcake. Once you've iced the cupcakes, place a crown decoration on the top of each cupcake.
4. For the frog cupcakes, spread a generous amount of green icing onto each cupcake. Place a fruit slice onto each cupcake for the frogs' smiles. On each halved gum drop, pipe a small circle of white icing and place a brown M&M on top. Use the toothpicks to anchor the frog eyes onto the cupcakes. Place a yellow crown behind the eyes.
That's it! These were super easy to do and would be fun for a birthday party!