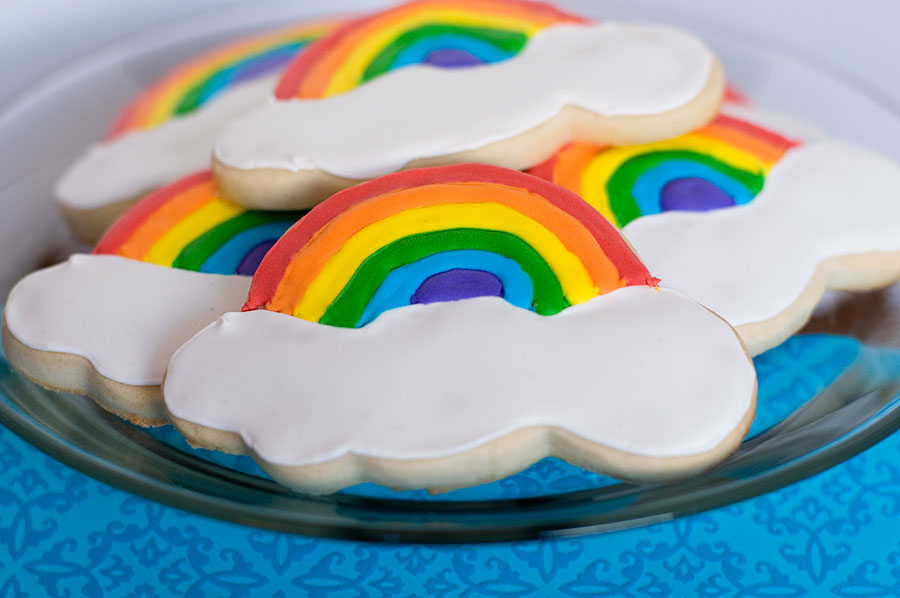 I made cookies very similar to these last year. But since I've become more familiar with royal icing, I decided to make these again — this time decorating them with royal icing. I bought my rainbow and cloud cookie cutter from amazon.com — though I'm sure Copper Gifts (a GREAT cookie cutter source) would have something similar as well.
Rainbow and Cloud Cookies
Cookie recipe: Bake at 350
Print Recipe
3 cups all-purpose flour
2 teaspoons baking powder
1 cup sugar
2 sticks (salted) butter, cold
1 egg
3/4 teaspoon pure vanilla extract
1/2 teaspoon pure almond extract
1. Preheat oven to 350.
2. Combine the flour and baking powder, set aside. Cream the sugar and butter. Add the egg and extracts and mix. Gradually add the flour mixture and beat just until combined, scraping down the bowl, especially the bottom.
3. The dough will be crumbly, so knead it together with your hands as you scoop it out of the bowl for rolling. (She's not kidding – it is c-r-u-m-b-l-y! Don't let that scare you though. Just warm the dough with your hand and knead it, it will come together)
4. Roll onto a floured surface and cut into shapes. Place on parchment lined baking sheets and bake for 10-12 minutes. Let sit a few minutes on the sheet, then transfer to a cooling rack.
White Royal Icing
4 cups powdered sugar, sifted
2 Tablespoons meringue powder
5 Tablespoons water
Directions:
Combine all ingredients in the bowl of a stand mixer fitted with the paddle attachment. Mix on low speed until the sheen has disappeared and the icing has a matte appearance (about 7-10 minutes). Transfer the contents of the mixing bowl to an air-tight container. This will be the stiffest consistency of the icing, and at this point it is still too stiff to use for decorating. Add water a very small amount at a time and stir by hand until fully incorporated. Continue until the icing has reached a consistency appropriate for piping.
I made 2 batches of this icing to ensure that I would have enough. I divided out the icing and dyed each batch red, orange, yellow, green, blue, and purple using Wilton gel colorings. I outlined and flooded the white clouds first, then completed the rainbows working my way from red to purple.
[I will promote this tutorial for the rest of my life — if you've never used royal icing before, read this post from Annie's Eats. I don't want to re-invent the wheel, so instead of writing my own tutorial, I'll just point you in Annie's direction for the how-to!]