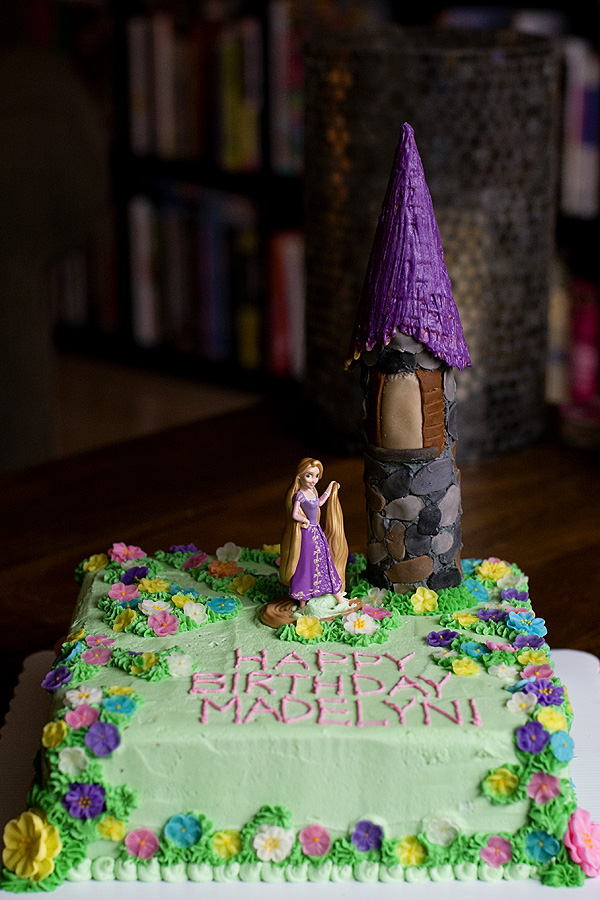 Happy birthday to Madelyn! Madelyn turns 5 this month and had an adorable birthday party last Saturday. She requested a Rapunzel cake, which immediately sent me into a slight panic because the story of Rapunzel involves a TOWER. But no challenge is too big and the cake turned out great. I need to give a HUGE thank you to my friend Meghan for all of her help – she made the tower… and rolled and dyed all of those fondant "stones". She's always so willing to help me with these cakes and it's much appreciated. Here are the details about how I made the cake:
I used The BEST Chocolate Cake Recipe from Kevin & Amanda and the White Buttercream Frosting recipe from the Repressed Pastry Chef. I made a double batch of both the cake the the frosting.
I used a 10″ square cake pan.
I used Wilton Leaf Green gel food coloring; using a little for the pale green and more for the darker shade of green.
The green "leaves" were created by using a Wilton star pastry tip.
The sugar flowers were purchased from Vanilla Bean here in Madison.
The Rapunzel figure belonged to Madelyn and I'm not sure where her parents purchased it.
The base of the tower is a cardboard center from a roll of paper towel. We cut the roll down in size a bit.
Meghan covered the roll in gray frosting (use black food coloring to achieve the gray color); she covered the gray frosting with bits of fondant that she rolled out to look like stones, windows, and shutters. When finished, the tower was placed on the cake and pushed into the cake about 1.5 inches.
The roof of the tower was created by using a waffle cone covered in purple candy melts. The candy melts were purchased at Vanilla Bean (though I know stores like Hobby Lobby sell them). Once melted, I brushed the candy melt material onto the waffle cone using a pastry brush and set it on a piece of waxed paper to dry.
We placed a wooden dowel, that was significantly taller than the tower, inside of the tower. We then set the waffle cone roof on the dowel so it appears to be sitting on the tower. You could also "glue" the roof to the tower with frosting.
Here are a few more photos. As always, let me know if you have questions.