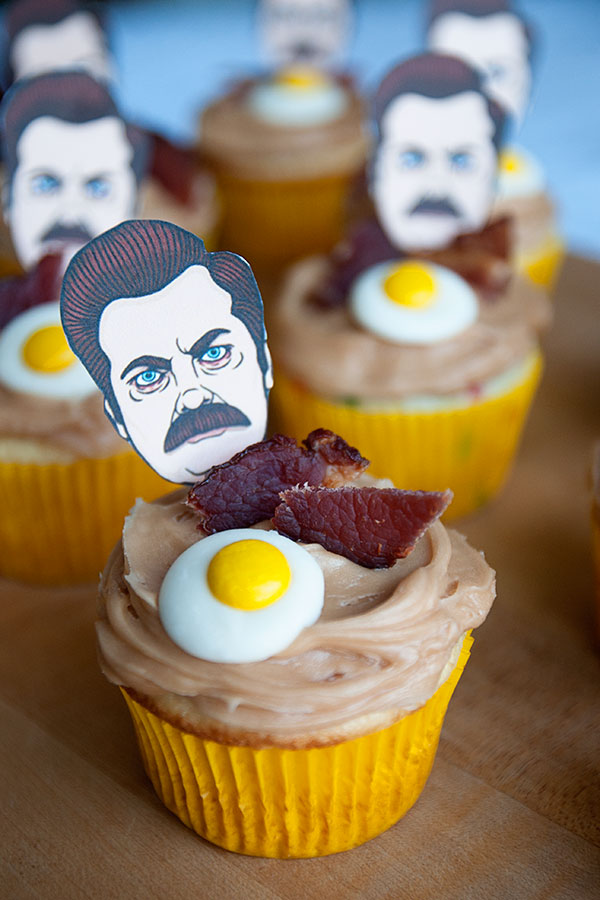 I am *so* sad that Parks and Rec has begun its LAST season. It's one of my favorite TV shows. I love every single character (which is rare to experience with a TV show, amiright?!), but I really love Ron Swanson. My ideal man would be a combination of Ron and Ben. Like, 75% Ron, 25% Ben. I can dream, right?
ANYWAY. I decided to make cupcakes, involving bacon, "eggs", and maple flavoring, in Ron's honor. Here's to Pawnee, Leslie's optimism, Andy's goofiness, April's sarcasm, Ben's nerdiness, Tom's ridiculousness, Jerry's awkwardness, Donna's sass, and Ron's total badassery.
Ron Swanson Cupcakes
Recipe adapted from: Tattooed Martha
Print Recipe
For the cupcakes:
1 box yellow cake mix, plus required oil + eggs
For the frosting:
1 tub of maple flavored frosting (I found mine at Target)
For the decorations:
6 strips of thick-cut bacon
White candy melts (you'll find these at your local craft store)
Yellow M&Ms
Cartoon Ron Swansons on a toothpick (see instructions below)
1. Make the cupcakes according to the box directions. Once they are completely cooled, frost with the maple icing.
2. Cook the bacon! Preheat your oven to 325F and line a baking sheet with foil. Arrange the bacon on the baking sheet and sprinkle with about a Tablespoon of brown sugar (if you don't have brown sugar on hand, don't worry, it's not necessary). Bake for 15 minutes, remove from oven and flip the bacon, bake another 15 minutes. Allow the bacon to cool completely, then cut the bacon into small pieces to place on top of the cupcakes.
3. Make the "eggs"! Leave the oven heated to 325F from the bacon step. Line a baking sheet with a piece of parchment paper and place a couple dozen white candy melts onto the parchment paper. Place the baking sheet in the oven for a few minutes — you just want the candy melts to soften enough so you can press a yellow M&M into them. Watch them! Mine took just a couple minutes, but your oven may differ. The candy melts will develop a shiny appearance when they start to melt — that's when you want to remove them from the oven. Once they're out of the oven, press a yellow M&M into each candy melt. Allow them to cool completely.
4. Make the Ron Swansons! The cartoon can be found here. Resize the image to 182 x 238 pixels. Print 12 or 24 of these (depending on how many cupcakes you are making) on white cardstock. Cut them out and tape each one onto a toothpick.
5. Assemble the cupcakes! Place a few bacon pieces and an "egg" onto each cupcake. Finish each cupcake off with a Ron Swanson cartoon.
Enjoy!