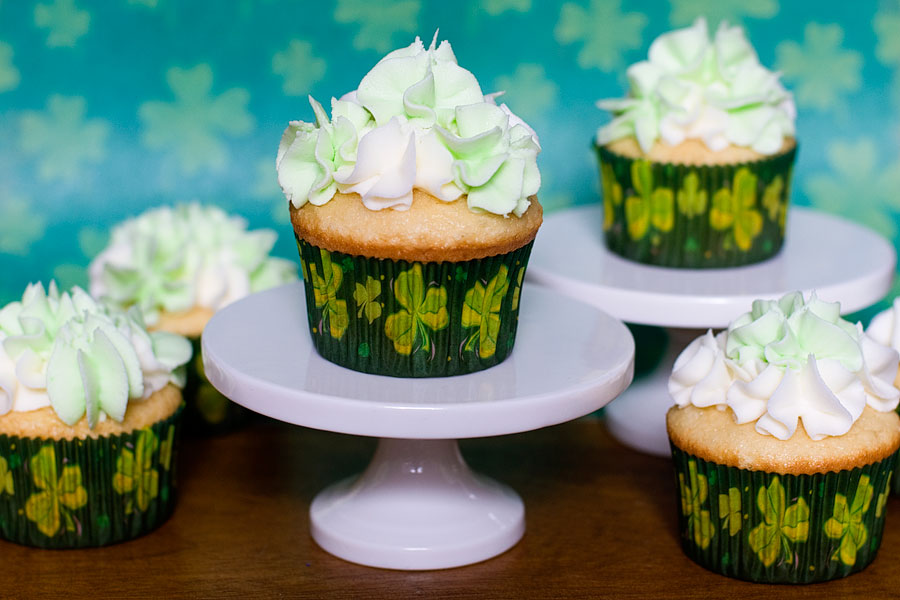 The calendar has flipped to March – the month of St. Patrick's Day. Every spring I anxiously await the return of the McDonald's Shamrock Shake. Usually I'm not a big McDonald's fan, except to pop in to buy a soda or use their restrooms on a road trip. But oh oh, Shamrock Shakes. They are so delicious. Maybe even more so because they're a limited-time addition to the menu each year.
I wanted to make a cupcake that was reminiscent of the Shamrock Shake — and a cupcake that was easy and quick to make. So you know what that means: I went the semi-homemade route. I used my favorite enhanced box cake recipe and made a big batch of mint buttercream frosting.
Shamrock Shake Cupcakes
Print Recipe
1 box cake mix (vanilla or white, in this case)
1 box vanilla instant-pudding mix (4-serving size)
4 eggs
1/3 cup vegetable oil
1 cup water
1 cup sour cream
1. Preheat oven to 350 and line cupcake pans with paper liners.
2. Mix all ingredients together using an electric mixer. Mix until smooth.
3. Pour batter into the lined cupcake pans, filling about 2/3 of each cup.
4. Bake according to box directions; you may have to adjust the baking time because the recipe has been altered a bit. Just keep an eye on the cupcakes and check them with a tester to determine when they're finished. Mine baked for 20 minutes.
Mint Buttercream
3/4 cup unsalted butter at room temp, cut into pieces
2 cups powdered sugar
2 tbsp milk
Few drops of mint extract
Green food coloring (optional)
1. Cream butter and sugar until light and fluffy.
2. Add milk and mint extract and mix well. You may want to add more or less milk.
3. Add food coloring if you wish. I split the batch in half – and only colored one half green.
4. Pipe over cooled cupcakes.