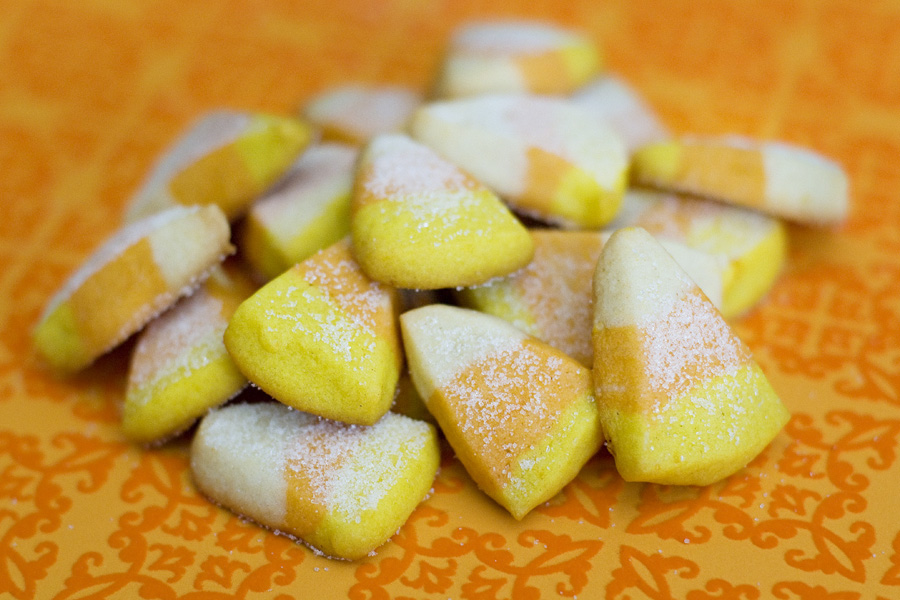 Halloween is almost here! My favorite candy when I was a kid was candy corn – though I used to call it "corny candy". Close enough, right? I would always bite off the white tip, believing wholeheartedly that it tasted better than the orange and yellow parts. I still carry some of these weird and irrational eating beliefs with me today — I firmly believe that holiday M&Ms taste creamier than the regular ones; that Easter Reese's peanut butter eggs have a different chocolate-to-peanut butter ratio and therefore taste better; and that Cadbury Mini Eggs are laced with some sort of highly addictive and illegal substance. Mmm… mini eggs. Mmmm.
Even those these candy corn cookies aren't aesthetically perfect (my fault!), they were really easy to make!
Sparkling Candy Corn Cookies
Recipe source: Land O' Lakes
Print Recipe
1 cup butter, softened
1 cup sugar
1 egg
2 Tablespoons orange juice
2 teaspoons freshly grated orange zest
1/8 teaspoon salt
3 cups all-purpose flour
1/2 teaspoons baking soda
Orange and yellow food colorings
1/2 cup sugar
1. Line the bottom of a 9×5″ loaf pan with waxed paper or plastic food wrap. Set aside.
2. Combine butter and 1 cup sugar in large bowl; beat at medium speed until creamy. Add egg, orange juice, orange zest, and salt. Continue beating until well mixed. Reduce speed to low; add flour and baking soda. Beat until well mixed.
3. Divide dough into thirds. Press one-third of white dough evenly onto bottom of prepared pan. Place another one-third of dough back into same bowl. Add orange food coloring; mix until color is well-blended. Press orange dough evenly over white dough in pan. Place remaining one-third of dough into another medium bowl. Add yellow food coloring; mix until color is well-blended. Press yellow dough evenly over orange dough in pan. Cover with plastic food wrap; refrigerate until firm (at least 2 hours or overnight).
4. Place 1/2 cup sugar in large bowl, set aside.
5. Heat oven to 375F.
6. Invert loaf pan to remove dough. Peel off waxed paper. Place layered dough onto cutting surface. Cut loaf crosswise into 1/4-inch slices using sharp knife, trimming edges to make even, if necessary. Cut each slice into 6 wedges. Place 1-inch apart on parchment-lined cookie sheets. Bake for 7-10 minutes or until edges are firm and bottoms are lightly browned.
7. Cool 1 minute; remove from cookie sheets and immediately place warm cookies in bowl with sugar; roll in sugar to coat. Place cookies on wire cooling rack.
Makes about 15 dozen miniature cookies; store in loosely covered container.