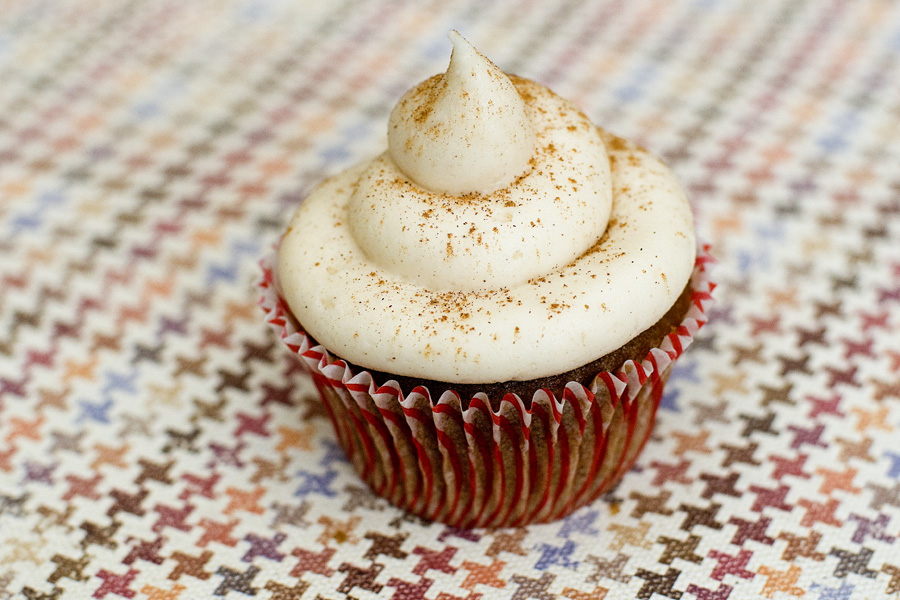 A simple and delicious recipe for your Monday morning.
Sweet Potato Cupcakes
Recipe source: Paula Deen
Print Recipe
1 box spice cake mix
1 teaspoon ground cinnamon
1 teaspoon ground ginger
1/2 teaspoon ground nutmeg
1 can (15 oz.) sweet potatoes, drained and mashed
1/2 cup vegetable oil
1/2 cup water
3 large eggs
1. Preheat oven to 350F. Line 24 muffin cups with paper liners.
2. In a large bowl, combine cake mix, cinnamon, ginger, and nutmeg.
3. In a medium bowl, combine sweet potatoes, oil, water, and eggs; add to cake mix mixture. Beat a medium speed with a mixer until smooth. Spoon batter into prepared muffin cups, filling two-thirds full. Bake for 16-18 minutes or until a tester comes out clean (Mine had to bake for about 25 minutes — so check the timing!) Let cool in pan for 10 minutes and then cool completely on wire racks.
4. Spread cinnamon-cream cheese frosting evenly over cupcakes and garnish with cinnamon.
Cinnamon-Cream Cheese Frosting
1 package (8 oz.) cream cheese, softened
1/4 cup butter, softened
2 Tablespoons heavy whipping cream
1 Tablespoon honey
1/2 teaspoon ground cinnamon
7 cups powdered sugar
1. In a large bowl, beat cream cheese, butter, cream, honey, and cinnamon at medium speed with a mixer until creamy. Gradually add powdered sugar, beating until smooth.