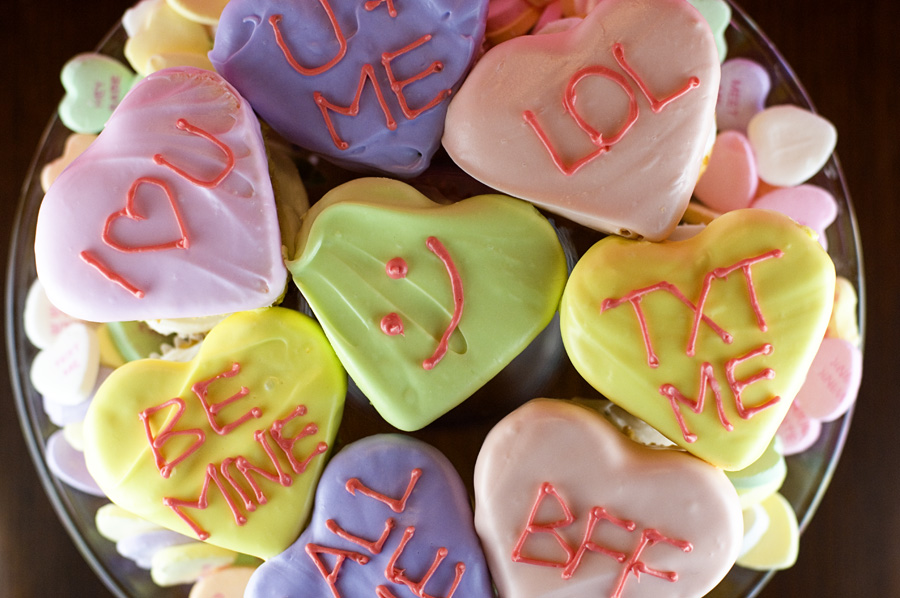 February is here! Happy early Valentine's Day! I love the idea behind conversation hearts, but I hate the candy itself (so chalky!). I thought a cupcake version of this classic candy would be a much better fit for me.
Sweet Talk Cupcakes
Inspired by What's New, Cupcake?
Print Recipe
18 vanilla cupcakes baked in white paper liners
3 frozen pound cakes (10.75 oz each), thawed (I used Sara Lee)
3 cans vanilla frosting
Red, green, yellow, orange, and purple food coloring
1. Cut the pound cakes in half horizontally and lay the halves flat. Using a 3-inch heart-shaped cookie cutter, cut out 3 hearts from each half.
2. Spread the top of the cupcakes with some vanilla frosting. Place a pound cake heart on top of each cupcake, pressing down to secure. Place the cupcakes in the freezer for 15 minutes or until slightly frozen.
3. Tint 1/2 cup of the vanilla frosting red with food coloring. Spoon the red frosting into a ziploc bag or piping bag. Divide the remaining frosting among five small microwaveable bowls. Tint each bowl a different pastel color of pink, green, yellow, orange, and purple. Cover with plastic wrap and set aside.
4. Working with one color of frosting at a time, microwave the frosting, stopping to stir frequently, until it has the texture of lightly whipped cream (about 20 seconds for my microwave). Remove 1 cupcake at a time from the freezer. Holding the cupcake by its paper bottom, dip it into the frosting just to cover the pound cake heart. Allow the excess frosting to drip off back into the bowl. Turn right side up and let stand. Repeat with each color and the remaining cupcakes. If the frosting becomes too thick, reheat for several seconds, stirring well.
5. Snip a very small (1/16-inch) corner from the bag with the red frosting. Pipe sayings on the top of the hearts.
My notes:
– To be honest, it's very difficult to dip the hearts into the frosting without the heart falling off. After a few failed attempts, I found a better system. Use a generous amount of frosting to anchor the heart onto the cupcake. Make the dipping frosting as thin as possible in the microwave (without it becoming entirely liquid). Once the frosting is ready to go, *quickly* remove a cupcake from the freezer and dip it. Do this step as quickly as possible — if you wait, the cupcake will warm up and the heart will detach from the base.
– I also found that it's difficult to coat the entire heart with frosting. Don't worry about covering every inch with frosting — imperfection is alright :) Here are what my cupcakes look like from the side: