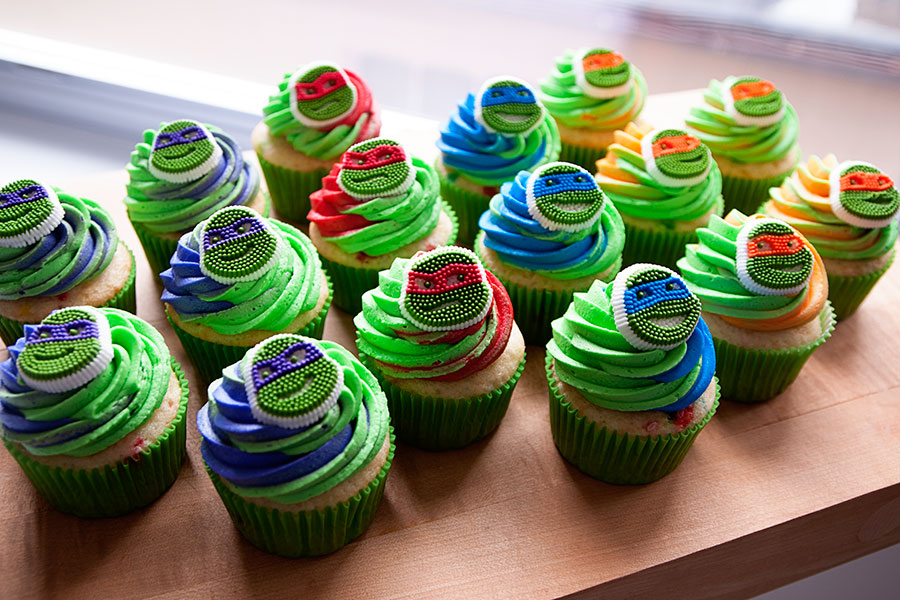 If you were a child of the 80s or 90s, you remember the Teenage Mutant Ninja Turtles. Leonardo, Michelangelo, Raphael, Donatello, Splinter, Shredder… all those names should ring the bells of nostalgia! I saw these decorations and knew I had to make some TMNT cupcakes!
Who was your favorite turtle? The tactical, courageous, and blue mask-wearing Leonardo? The easy-going, free-spirited, and orange mask-wearing Michelangelo? The tough, rough, red mask-wearing Raphael? Or the knowledgeable, science-minded, and purple mask-wearing Donatello? I always liked Donatello — because duh, purple mask… and science-minded!
Teenage Mutant Ninja Turtle Cupcakes
Print Recipe
1 box cake mix plus required oil + eggs (any flavor cake mix will work!)
2 batches of buttercream icing (I would recommend the White Buttercream recipe here)
Green, blue, orange, red, and purple food coloring (I used Wilton gel colorings)
Four disposable pastry bags
A large star pastry tip
Teenage Mutant Ninja Turtle cupcake decorations (I've seen them at WalMart, Party City, etc)
1. Make the cupcakes according to box directions. Allow the cupcakes to cool completely before decorating.
2. Dye one batch of buttercream green. Split the other batch into four bowls — and dye the icing red, orange, purple, and blue.
3. I decided to swirl the green icing together with the red, orange, purple, or blue. For example, for the blue Leonardo cupcakes — fit a disposable pastry bag with the large star tip. Fill half the bag with green icing and half with blue icing. The colors will swirl together if you do this. If you need a visual, please visit Sally's lovely tutorial! Pipe the swirled icing onto each cupcake, then top with the corresponding Turtle.
4. Repeat step 3 for the rest of the colors — green + red, green + orange, green + purple.