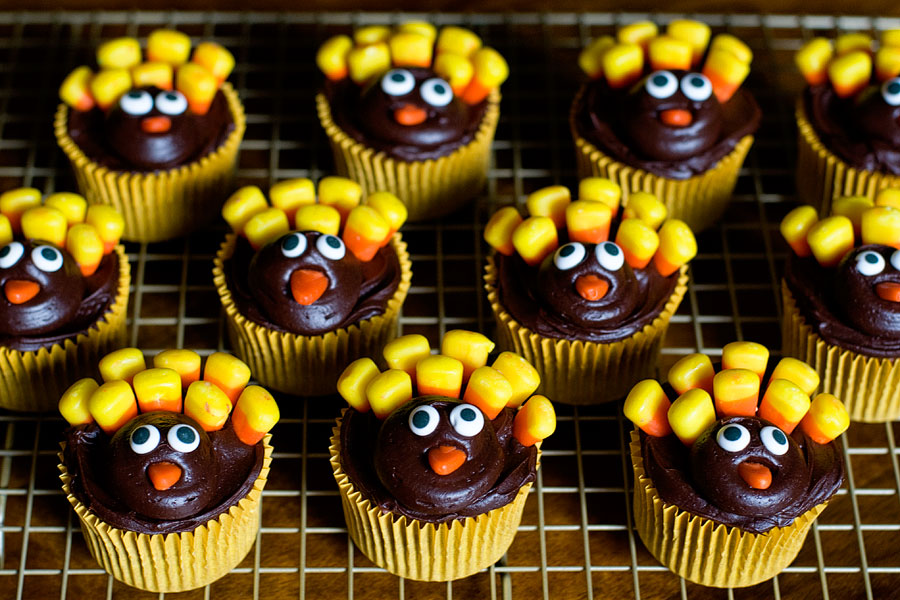 Thanksgiving is exactly one week away! Can you believe it? It's one of my favorite holidays – a delicious meal, a day filled with football, and the wonderful season of Christmas is rapidly approaching. These cupcakes are perfect if you a) need to make a dessert for your family get-together and b) have left-over candy corn from Halloween!
Turkey Cupcakes
Print Recipe
1 box cake mix (plus required eggs and oil)
2 tubs chocolate frosting
Candy corn and Indian corn
Candy eyes
1. Bake 24 cupcakes according to box directions and allow them to cool completely.
2. Spread a layer of frosting over each cupcake.
3. Pipe a large "blob" of frosting near the front of each cupcake. I used a large Wilton tip for this. If you don't have a pastry tip, you can snip the corner of a Ziploc bag and use that to pipe the frosting.
4. Place the "eyes" on each blob of frosting. Cut the tip off of a piece of Indian corn and use that for the orange nose. If you don't have Indian corn, you can use other things! Orange icing, an orange M&M, orange fondant, etc. Be creative! And the nose doesn't have to be orange – you can use whatever color you'd like if you aren't using Indian corn.
5. Place 6 to 8 pieces of candy corn into the cupcakes for the feathers of the turkey.
That's it! Enjoy and I hope you all have a safe, happy, and healthy Thanksgiving.