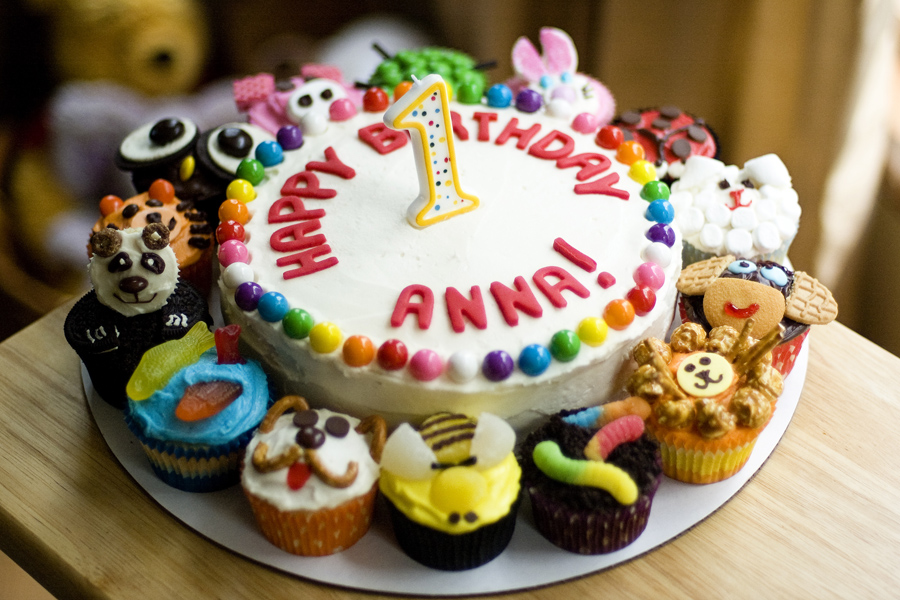 I made an animal-themed birthday cake for my niece's 1st birthday party. It was a labor of love and I was drowning in buttercream by the time I was finished! Here are the steps I went through to make the cake:
The cake itself is a box mix. Funfetti, in this case. Who doesn't love funfetti?! I kind of have a rule that if the decorating is going to be time-consuming, I will use a box mix cake. It just makes my life a little easier and keeps me sane…cause baking a homemade cake isn't always easy!
I frosted the entire cake with buttercream frosting. Here is my favorite recipe, Billy's Buttercream:
– 1 cup unsalted butter at room temperature
– 1/2 cup whole milk
– 1 teaspoon pure vanilla extract
– 6-8 cups powdered sugar
Cream the butter with an electric mixer until smooth and creamy (2 minutes). Add the sugar gradually, mixing well after each addition. Add the milk and the vanilla. If necessary, add another 1-2 cups of sugar to acheive the desired consistency. I always use 7.5 cups of powdered sugar for this recipe.
I bought pre-colored fondant from Hobby Lobby, rolled it out, and used alphabet cutters to spell out "Happy Birthday Anna!"
I left the frosted cake (with the fontant letters in place) in the refrigerator overnight. Since it was only going to be in the refrigerator for less than 12 hours, I did not cover the cake. I would suggest covering it with plastic wrap if you are going to refrigerate it longer than that.
I added the border of gumballs a few hours before the party started (I didn't want the color from the gumballs to bleed into the white buttercream).
Since Val & I are going to be on vacation for the next two weeks, I'm going to schedule posts detailing how I made the animal cupcakes. So expect those posts over the next 10 days or so!
Happy baking & we'll be back with more sugary delights soon!