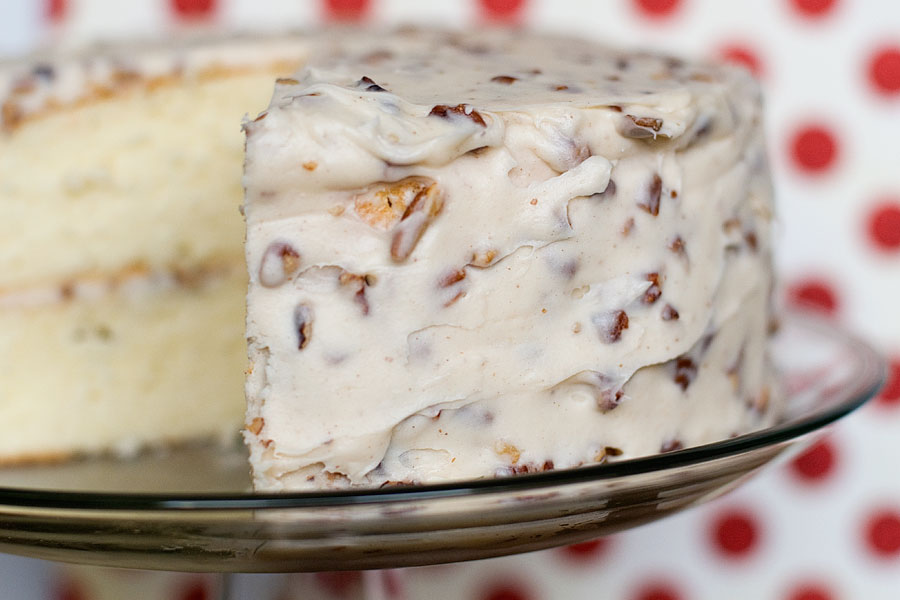 Butter pecan is one of my favorite ice cream flavors, but I've never had a butter pecan cake until now. Pecans always remind me of two things: the south and Christmastime. When the smell of roasted pecans filled my apartment, all I could think about was the holiday season and how special it is. It's like an assault (in a good way) on your senses – smells (cinnamon! roasted nuts! pine! cookies!), sights (lights!), sounds (Christmas music, whether you love it or hate it, is unavoidable!), and nostalgia so strong that it hurts my heart. Hope you are all having a wonderful season so far.
Butter Pecan Cake
Recipe source: Bake or Break
Print Recipe
Cake:
6 oz. white chocolate
1/2 cup boiling water
1 cup butter, softened
1-1/2 cups sugar
4 eggs, separated
1 teaspoon vanilla extract
1 cup buttermilk
1 teaspoon baking soda
3 cups sifted flour [cake flour works best!]
Frosting:
2 Tablespoons butter
1-1/4 cups coarsely chopped pecans
11 oz. cream cheese, softened
1/2 cup butter, softened
16 oz. powdered sugar
2 teaspoons vanilla extract
To make cake:
1. Place white chocolate in a bowl and pour boiling water over it, stirring until smooth. Set aside to cool.
2. Preheat oven to 350°. Spray two cake pans with non-stick spray.
3. Using an electric mixer on medium speed, beat butter until creamy. Gradually add sugar, beating well. Add egg yolks, one at a time, beating after each addition. Stir in melted white chocolate and vanilla.
4. Combine buttermilk and baking soda. Add flour to butter mixture, alternating with buttermilk mixture. Begin and end with flour. Mix at low speed after each addition until blended.
5. Beat egg whites to stiff peaks. Gently fold into batter. Pour batter evenly into prepared pans.
6. Bake for 20-22 minutes, or until a toothpick inserted in the center of cake comes out clean. Cool in pans for 10 minutes. Then, remove from pans to wire racks to cool completely. [depending on what size cake pan you use and how much batter you add to each, the baking time may need to be adjusted]
7. Spread frosting between layers and on the top and sides of cake. Store in refrigerator.
To make frosting:
1. Melt 2 Tablespoons butter in a large skillet. Add pecans and cook over medium heat, stirring occasionally, until toasted (about 10 minutes). Remove from heat and cool completely.
2. Beat cream cheese and 1/2 cup butter until creamy. Gradually add sugar and beat until light and fluffy. Stir in toasted pecans and vanilla.