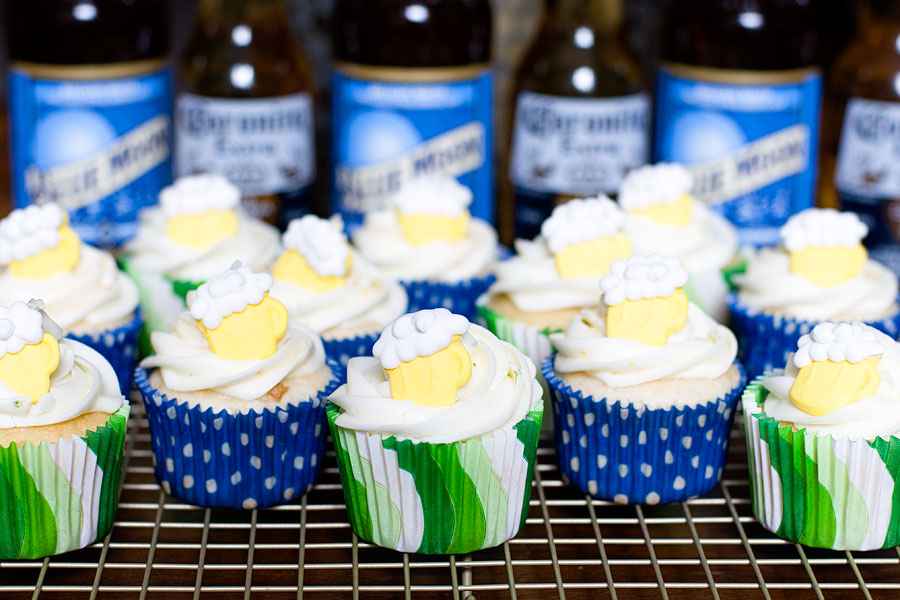 St. Patrick's Day is the holiday of beer. Or so it seems. ;) You can make these cupcakes at any time of the year (they'd be perfect in the summertime or for the Super Bowl), but I decided to make them in honor of St. Patrick's Day. I'm not a huge Corona fan, but I love Blue Moon, so those were my favorites. But let's be honest. Anything involving cream cheese frosting is perfect in my book.
Blue Moon & Corona Cupcakes
Recipe source: Erica's Sweet Tooth
Print Recipe
For the beer cupcakes:
3/4 cups unsalted butter, at room temperature
1-3/4 cups sugar
2-1/2 cups flour
2 tsp baking powder
1/2 tsp salt
3 eggs, at room temperature
1 tsp vanilla
1/2 tsp orange or lime zest
1 cup Blue Moon *or* Corona beer
1/4 cup milk
For the citrus cream cheese frosting:
12 oz cream cheese, cold
6 Tablespoons butter, at room temperature
1 Tablespoon freshly squeezed orange/lime juice
1 tsp orange/lime zest
4 cups powdered sugar
For the beer cupcakes:
1. Preheat oven to 375 degrees and line 24 muffin tins with cupcake liners.
2. In a medium-sized bowl, whisk together flour, baking powder, and salt.
3. In the bowl of an electric mixer, beat together the butter and sugar until light and fluffy, about 2-3 minutes.
4. Add eggs, beating after each addition then add the vanilla and zest.
5. Combine milk and beer and alternatively add this mixture and the flour mixture to the butter/sugar mixture with the mixer on low speed, starting and ending with the flour.
6. Fill the cupcake liners 2/3 full and bake for 18 minutes, or until cake tester comes out clean.
For the citrus cream cheese frosting:
1. Cream together the cream cheese and butter in an electric mixer until smooth and creamy, about 2-3 minutes.
2. Add the citrus juice and zest and gradually add the powdered sugar until well-combined. Beat until smooth for about 2 minutes.
3. Load frosting in a piping bag fit with a large star tip and pipe cupcake tops once cooled.
Recipe yields 24 cupcakes.
4. Decorate as you'd like – I used pressed sugar beer mugs made by Wilton.
Makes about 24 cupcakes.
*Note: I made these a little differently than the recipe above instructs. In the recipe above, you have to choose one or the other for your required cup of beer — and in the frosting, the lime and orange zests are mixed in together to create an overall citrus flavor. But I wanted both Blue Moon cupcakes AND Corona cupcakes. So I made two separate batches. Because I'm crazy and wanted to stress-bake my law school woes away. I also, in turn, made a batch of lime cream cheese frosting and a batch of orange cream cheese frosting. The end result was that I had a batch of cupcakes made with Blue Moon & orange icing — as well as a batch of cupcakes made with Corona & lime icing.
It's totally up to you how you choose to make these. Most people prefer one of those beers over the other, so go with what you like best – or what you have in the house!