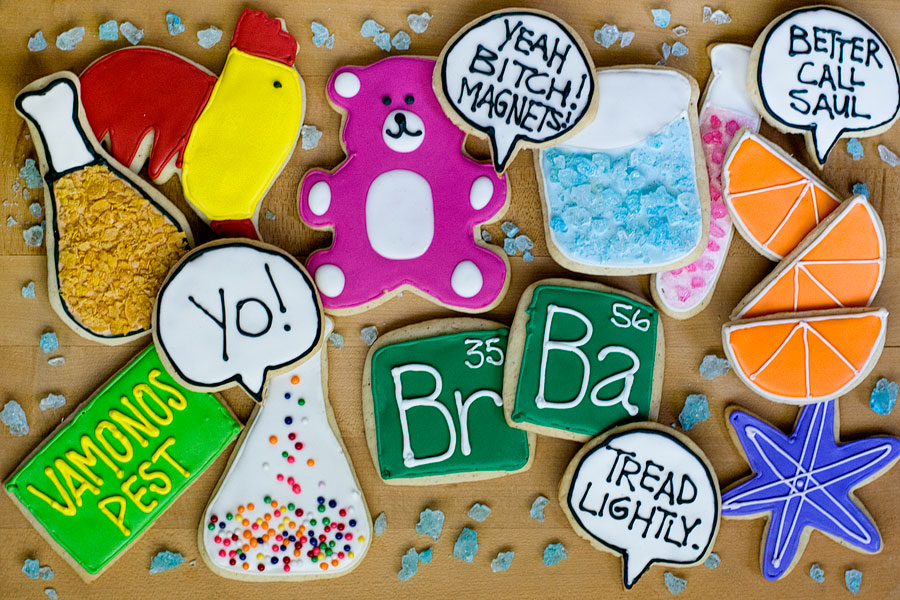 OK, who else is obsessed with Breaking Bad? I think it's one of the best shows of all time. That may sound overly dramatic, but if you've seen the show, you know I'm right. Oddly, I hated the show during the first season. I found it dark, depressing, uncomfortable, and the thought of watching Walt go through chemo just wasn't my idea of great TV. I'm glad I stuck with it though. . . even though it's still dark, depressing, and uncomfortable!
The series finale is in a few weeks and I am dying to see how it all ends. I made these cookies back in August when I had more school-free time. The cookies are just a basic sugar cookie – use any recipe you'd like that is meant for cut-out cookies. Bridget's recipe is great, as is Annie's. I used my grandmother's recipe for these. I'm sure she'd be so proud knowing that her beloved cookie recipe was used to make cookies representing a violent television show. ;)
As I have mentioned many times before, please visit Annie's perfect post about decorating with royal icing. She'll give you the entire rundown on how to outline, flood, etc.
And where do I come in? Let me give you a rundown on each of these cookies!
The rooster. Represents Los Pollos Hermanos! I found the rooster cookie cutter on Amazon. I kept it simple and just used yellow and red icing.
The chicken leg. Well… Los Pollos Hermanos is a fried chicken restaurant, so I had to include a fried chicken leg! I was inspired by Bridget's post at Bake at 350. I didn't have to buy a chicken leg cookie cutter. I used the same cookie cutter as I did for the Erlenmeyer flask – and rounded the edges more to make it look like a chicken leg.
The Vamonos Pest sign is self explanatory. I cut the rectangle out by hand, as I didn't have a rectangle cookie cutter. I used neon green and bright yellow icing.
The pink teddy bear. If you watch the show, you remember the pink teddy bear falling from the sky. If you're looking for a teddy bear cookie cutter, do a search on Amazon. There are a ton to choose from. The teddy bear on the show is more magenta than true pink, so I added a little purple food coloring to the pink icing I made. Sidenote: the bear also looks like evil Lotso from Toy Story III
The beaker of blue meth. Well, duh. Blue Sky is the name of Walt and Jesse's meth. The beaker cookie cutter was included in this kit. I bought blue rock candy at a local candy store.
The test tube of pink manganese. OK, so they don't make anything having to do with manganese. But remember Hank's obsession with minerals? I liked the quote from Walt: "Manganese can have an oxidation between minus three and plus seven which takes it through a range of colors–purple, green, blue–but it's most stable state is plus two… which is usually pale pink." Given how much Vince Gilligan loves color, anyone else take that quote to mean that Walter WHITE and Jesse PINKman are at their best when they are working together? The test tube cookie cutter was part of this kit and the pink rock candy was from a local candy store.
The oranges. Surely we all remember when Carol dropped the grocery bag of oranges in the season premiere. "Hello, Carol." Oranges are also thought to be a symbol of death on this show (and the Godfather, for anyone keeping track). I used a round cookie cutter to make the orange slices – just cut the circle in half.
The purple atom. The atom cookie cutter came from this kit. I made it purple as a tribute to Marie, who loves the color purple more than life itself.
The "Br" and "Ba" squares. The opening credits of the show use the periodic table in the text – ex: Breaking Bad. The opening credits use dark green. I cut the square myself, as I didn't have a square cookie cutter.
The Erlenmeyer flask. Just a fun cookie that goes along with the chemistry theme of Walt and Jesse's empire.
The quote bubbles. You'll recognize all the quotes if you watch the show. Instead of buying a quote bubble cookie cutter (which I'm sure is out there somewhere), I used my circle cookie cutter — and made a few modifications to make it look like a quote bubble.
These cookies were a labor of love — but I love the show and I'm so sad that it's ending!