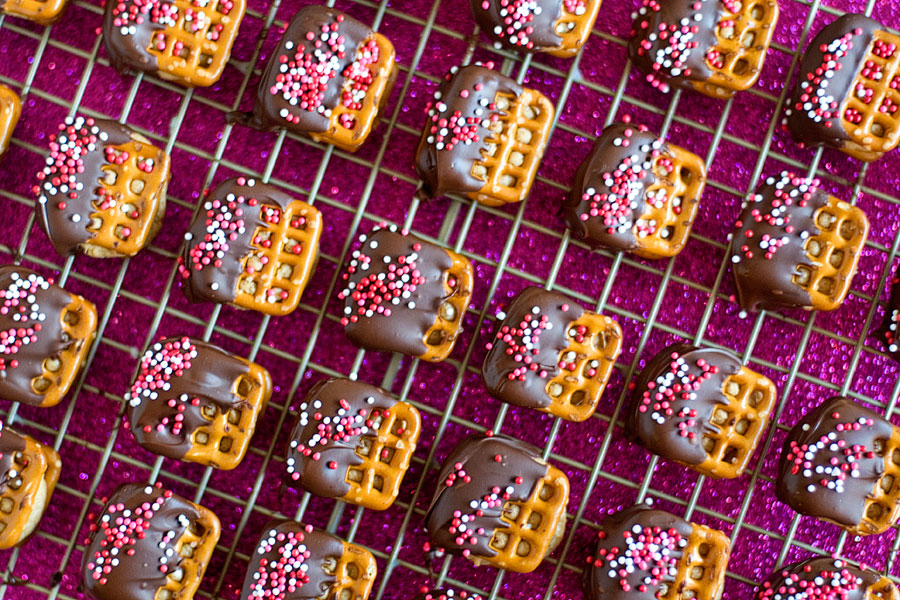 Valentine's Day is rapidly approaching! Love it or hate it, it's unavoidable. One of my favorite quotes that I found on Twitter was, "Valentine's Day needs to get the hell out of my Target." Maybe I'm just bitter that Christmas has ended, winter is dragging on, and I'm single this year. But don't let me get ya down!
I have some Valentine's Day treats lined up over the coming weeks — hope you enjoy!
Yield: 40+ bites
Buckeye Bites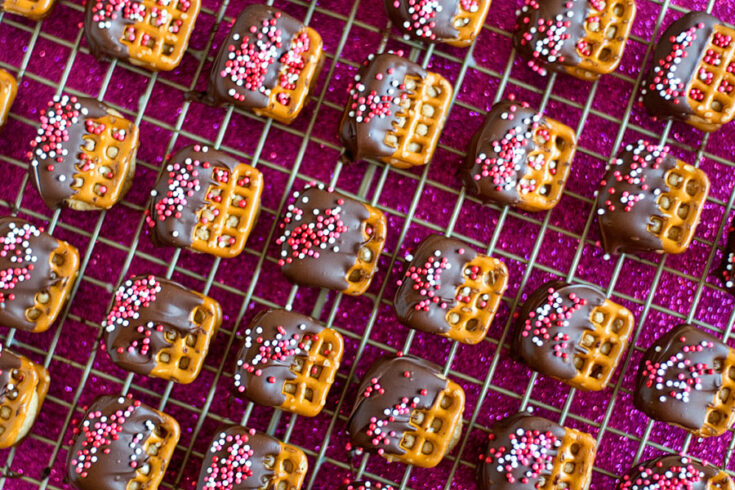 Buckeyes made better by the crunch of a pretzel!
Additional Time
30 minutes
Total Time
1 hour
10 minutes
Ingredients
2 Tablespoons softened butter
1/2 cup powdered sugar
3/4 cup brown sugar
Pretzels (any small type will work – squares, traditional twists)
1 bag semi-sweet chocolate chips
Instructions
1. Line a baking sheet with parchment paper and set aside.

2. In the bowl of a stand mixer, beat peanut butter and butter until combined. Add sugars and beat until combined. If needed, add more powdered sugar until you reach a consistency that is easy to roll.

3. Roll the mixture into small balls, about 1 teaspoon in size. Sandwich the balls between two pretzels and place in the freezer for 30 minutes.

4. Melt the chocolate in a double boiler (or carefully in the microwave). Stir occasionally until smooth and thoroughly melted. Remove from heat and allow to cool for a few minutes.

5. Dip each pretzel bit halfway into the melted chocolate and place on the prepared baking sheet. Decorate with sprinkles. Chill in the refrigerator until chocolate is set.
Notes
Your yield will depend on how much buckeye filling you place between your pretzels.