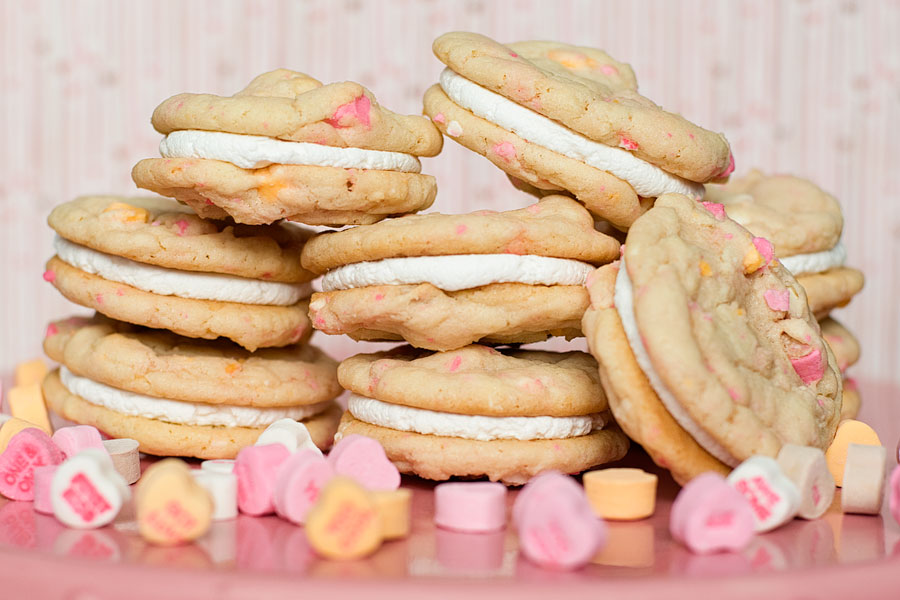 I saw these cookies on We are not Martha last week. I was intrigued for a few reasons – they are adorable, they are Valentine's-related, they involve marshmallow fluff, and they feature conversation hearts. I am definitely not a conversation heart fan. I've always thought that they are more akin to sugar-flavored chalk than to candy. But to each their own. When I was at Target a few weeks ago I spotted ice cream-flavored conversation hearts (made by Brach's) — a new spin on a classic! The bag includes strawberry, cherry, orange, vanilla, and chocolate-flavored hearts. I thought these hearts would be perfect for this recipe — and that the flavors would blend well with the marshmallow fluff. Even me, the chalky heart hater, thought these cookies were delicious.
Conversation Heart Marshmallow Cookies
Recipe source: Adapted from We are not Martha
Print Recipe
3/4 cup sugar
1 stick butter, softened
1 egg
1/2 Tablespoon vanilla extract
1- 2/3 cups all-purpose flour
1/2 teaspoon baking soda
3/4 teaspoon cream of tartar
1/4 teaspoon salt
1-1/4 cups crushed conversation hearts
For the marshmallow filling:
1 7-oz jar marshmallow fluff
1/2 cup shortening
1/3 cup powdered sugar
1. Preheat oven to 350F. Crush the conversation hearts by using a food processor — or by placing them in a plastic bag and beating them with a hammer or meat mallet. Go with the latter if you've got some stress in your life that you'd like to release. It's very therapeutic.
2. Cream sugar and butter together in a stand mixer (or a bowl with a hand mixer) until light and fluffy. Add egg and vanilla and mix to combine.
3. In a separate bowl, whisk together flour, baking soda, cream of tartar, and salt.
4. Slowly pour the flour mixture into the wet mixture, mixing on low all the time. Stop mixer when dough is just combined — you don't want to over-mix.
5. Pour your crushed cookies into the batter and stir to combine.
6. Place balls of dough (about 1 Tablespoon) on parchment paper-lined cookie sheets. Bake for 8 to 12 minutes, or until the edges are just starting to brown. Cool the cookies for a few minutes on the baking sheets, then transfer to wire rack to cool completely.
7. While the cookies are cooling, make the marshmallow filling. Place the marshmallow fluff, shortening, and powdered sugar in the bowl of a stand mixer and mix together until light and fluffy.
8. Place the filling in a pastry bag or ziploc bag (snip a corner off to create a pastry bag). Pipe a blob (very technical term) of marshmallow filling onto the bottom of one cookie and create a sandwich using another.
Makes about 1 dozen sandwiches.