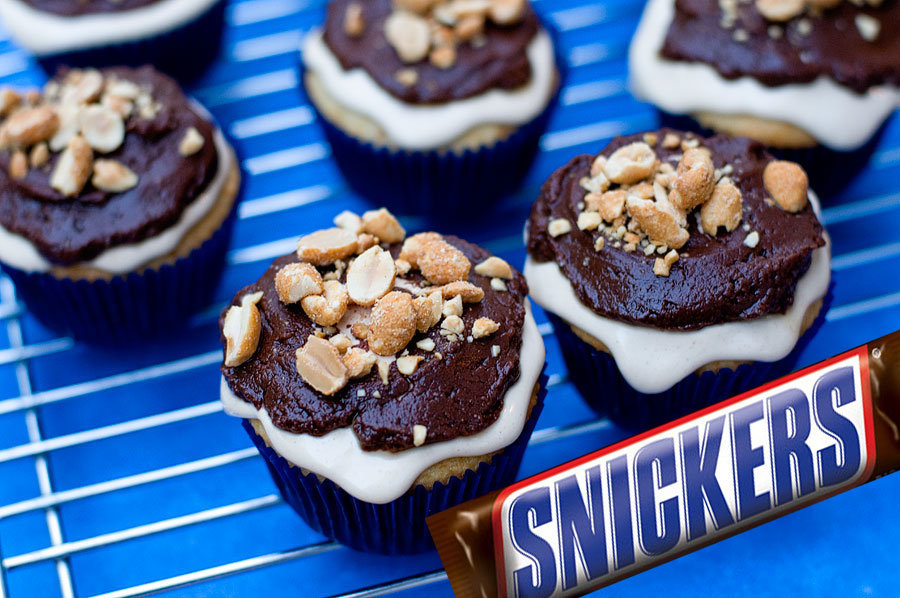 Snickers are one of my favorite candy bars. I'm usually not a huge fan of nougat, but somehow the Snickers changes my opinion! Such a perfect combination of chocolate, caramel, nougat, and peanuts.
Snickers are made by the Mars Corporation — and Snickers has annual sales of $2 billion.
The candy bar was introduced in 1930 and is named after the favorite horse of the Mars family.
The bar was marketed under the name "Marathon" in the UK until 1990.
Snickers are sold in a variety of sizes and variations – fun size, ice cream bars, Snickers peanut butter bars, etc.
Deep-fried Snickers are a popular snack at state and county fairs – and the Cheesecake Factory sells "Snickers Bar Chunks and Cheesecake".
Mars has partnered with the NFL, Betty White, Mr. T, NASCAR, Roseanne Barr, Joe Pesci, and others for Snickers advertising. [all trivia from Wikipedia]
Snickers Cupcakes
Recipe source: Food Network Magazine Jan/Feb 2010
Print Recipe
For the cupcakes:
2-1/2 cups all-purpose flour
2-1/4 teaspoons baking powder
1/2 teaspoon salt
3 large eggs, at room temperature
3/4 cup granulated sugar
1/2 cup packed light brown sugar
10 Tablespoons unsalted butter, melted
1 Tablespoon vanilla extract
3/4 cup whole milk
2 cups chopped salted roasted peanuts, plus more for garnish
For the nougat frosting:
2 13 oz. jars marshmallow creme (about 4 cups)
1/2 cup creamy peanut butter
Pinch of salt
For the chocolate frosting:
6 oz. milk chocolate, chopped
4 oz. semisweet chocolate, chopped
2-1/2 cups powered sugar
1/4 cup whole milk
1 stick unsalted butter, softened
1 Tablespoon vanilla extract
1/2 teaspoon salt
1. Make the cupcakes: Preheat oven to 350F and line two 12-cup muffin pans with paper liners. Whisk the flour, baking powder, and salt in a medium bowl.
2. In another bowl, beat the eggs and both sugas with a mixer until light and fluffy (about 2 minutes). Gradually beat in the melted butter and vanilla. With the mixer on low speed, add half of the flour mixture, the milk, and then the remaining flour. Fold in the peanuts but don't overmix.
3. Divide the batter evenly among the prepared cups, filling each about halfway. Bake until a toothpick comes out clean — about 20 to 22 minutes. Let cool in pans 10 minutes, then transfer to racks to cool completely.
4. Make the nougat frosting: beat the marshmallow creme, peanut butter, and salt with a mixer until smooth; set aside. Make the chocolate frosting: put both chocolates in a large microwave-safe bowl and microwave on 50% power until soft, about 1 minute. Stir, then continue to microwave until melted, 1 to 2 more minutes. Add the powdered sugar, milk, butter, vanilla, and salt and beat with a mixer until smooth and creamy.
5. Spread nougat frosting over each cupcake, then top with chocolate frosting, leaving some of the nougat exposed. Garnish with peanuts.
Makes about 24 cupcakes.