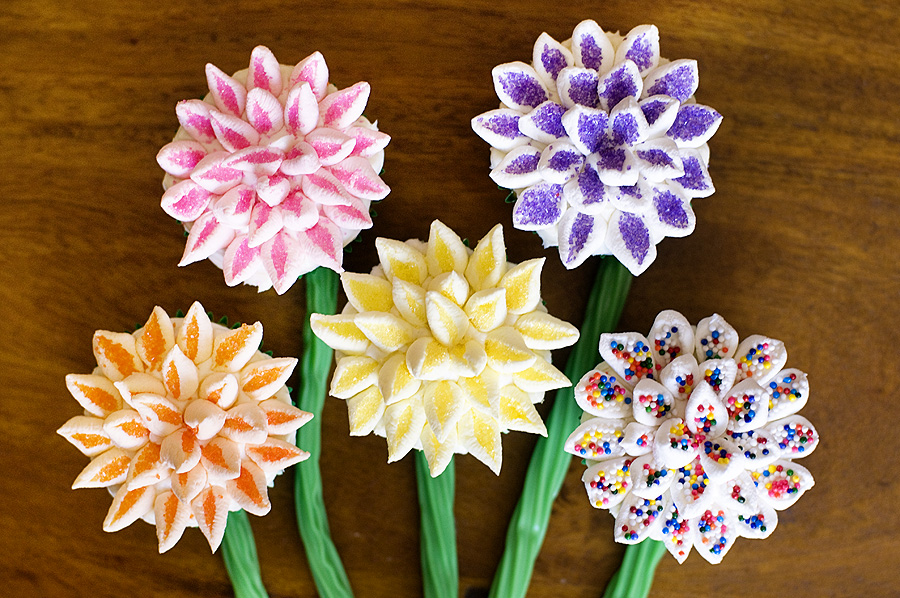 Happy Mother's Day weekend! Moms are the best, aren't they? If you don't want to buy your mom real flowers, make her some in cupcake form! I saw these cupcakes in "What's New, Cupcake" and had to give them a try. They are SUPER easy to make, but are time-consuming. You can cut some of the time down by making cupcakes from a box mix and using store-bought frosting. Here's how I made mine.
Mum Flower Cupcakes
Recipe source: What's New Cupcake
Print Recipe
1 box cake mix (I used white cake)
1 tub store-bought vanilla frosting
1 package of fruit-flavored Twizzlers (optional)
1 bag mini marshmallows (you can use the colored marshmallows or the plain white, it's up to you)
Variety of sprinkles/sugars
1. Make the cupcakes according to box directions and frost.
2. Cut the marshmallows on the diagonal. Dip the sticky side of the marshmallow into the sprinkles or colored sugar. Repeat this process until you have many "petals" to work with.
3. Place the marshmallow petals around the outside of the cupcake; repeat with a second and third row until you get to the center of the cupcake.
4. Optional: Separate the green Twizzlers and use them as stems!