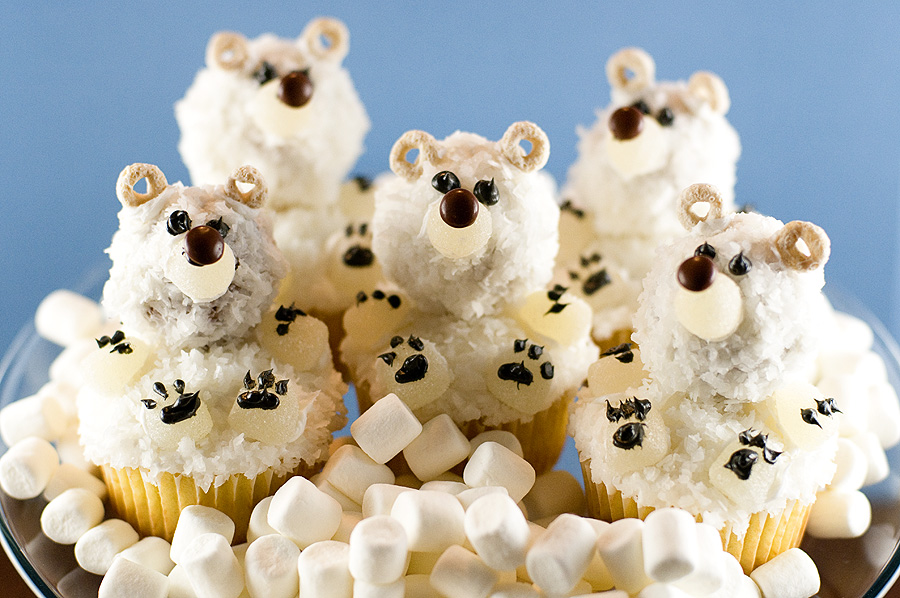 Happy winter! I live in Wisconsin and find the months of January through March to be the most depressing time of year. The holidays are over. Summer is still months and months away. There's really not much to look forward to except the Super Bowl (I'm a football nut!). One of the few things I love about January is getting to open and begin new calendars. This year I have a Hello, Cupcake! calendar and these adorable polar bear cupcakes were featured this month. Holy cute, right? Here's how I made them:

Polar Bear Cupcakes
Inspired by What's New, Cupcake?
Print Recipe
12 vanilla cupcakes baked in white paper liners (I used a box vanilla cake mix)
1 can vanilla frosting
1/2 can chocolate frosting (or you can tint some of the vanilla frosting black, as I did)
12 plain donut holes
1 cup flaked, sweetened coconut
60 white spice drops (less if you are making fewer than 12 cupcakes)
24 frosted Cheerios
12 brown mini-M&Ms
1. Spoon 1/2 cup of the vanilla frosting into a ziploc bag. Spoon the chocolate frosting into a ziploc bag. Press out the excess air and seal the bags. Spread the top of the cupcakes with some of the remaining vanilla frosting, mounding it slightly. Place a donut hole close to one edge of each frosted cupcake. Place the cupcakes in the freezer until firm (15-20 minutes).
2. Pulse the coconut in a food processor until finely chopped. Place the coconut in a small shallow bowl.
3. Spread the remaining vanilla frosting in a thin layer over the donut hole and fill in the gap around the base to smooth. Roll the assembled cupcake in the chopped coconut to cover completely. Repeat with the remaining cupcakes.
4. Snip a small (1/8 inch) corner from the bags with the vanilla and chocolate frostings. For the bottom paws, flatten 24 of the spice drops lengthwise. For each cupcake, pipe dots of vanilla frosting on top of the coated donut hole and attach the cereal pieces as ears. Pipe dots of vanilla frosting on the cupcake and attach 2 of the flattened spice drops as bottom paws. Pipe dots of vanilla frosting and attach the flat side of spice drops as the muzzle on the donut hole and the front paws on the cupcake. Pipe the eyes, claws, and pads on the spice drops using the chocolate frosting. Add the brown candy as the nose.