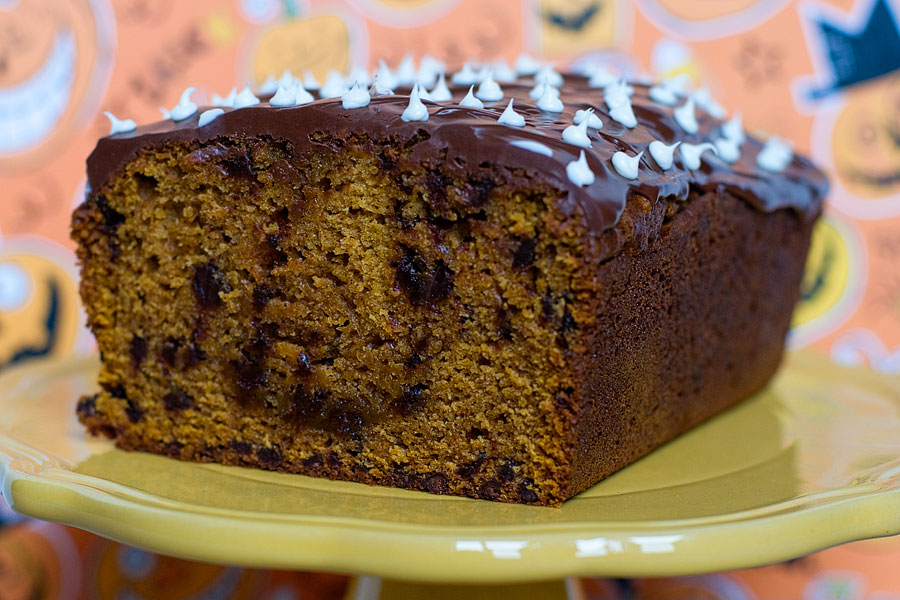 OK, so I know that I have mentioned again and again that I'm not a huge fan of pumpking. HOWEVER, when enough chocolate is involved, I can get on board with just about anything. This bread has mini chocolate chips baked into it — and the top of the loaf is coated in chocolate. What's not to like – even for me, the pumpkin hater?! The other fun thing about this recipe is that you can be create with how you decorate the top of the loaf. After the layer of chocolate sets, you can use white chocolate or white icing to make a fun design. I went with polka dots.
Pumpkin Chocolate Chip Bread
Recipe source: Inside BruCrew Life
Print Recipe
3/4 cup sugar
3/4 cup brown sugar
1/2 cup oil
2 eggs
1 cup pumpkin
1 teaspoon baking soda
1 teaspoon cinnamon
1/2 teaspoon salt
1/2 teaspoon nutmeg
1 3/4 cups flour
1/3 cup milk
1 cup miniature chocolate chips
1/2 cup chocolate chips
1/4 cup white chocolate chips
1 1/2 teaspoons shortening
1. Preheat oven to 350F.
2. In a mixing bowl beat the sugars, oil, and eggs until creamy. Add the pumpkin and beat again.
3. Sift together the baking soda, cinnamon, salt, nutmeg, and flour. Add to the pumpkin mixture alternately with the milk.
4. Stir in the mini chocolate chips by hand.
5. Spread the batter in a greased 9×5 loaf pan. Bake for 60-70 minutes. Cool in the pan for 15 minutes, then flip out onto a wire rack to cool completely.
6. Place the chocolate chips and 1 teaspoon shortening in a microwave safe bowl. Heat for 30 seconds. Stir and heat again for 15-20 seconds.
7. Set aside and repeat with the white chips and remaining shortening. Spoon the melted white chips into a plastic baggie with one tip cut off.
8. Decorate the top of the loaf however you'd like. Make dots — or drizzle the white chocolate over the top.